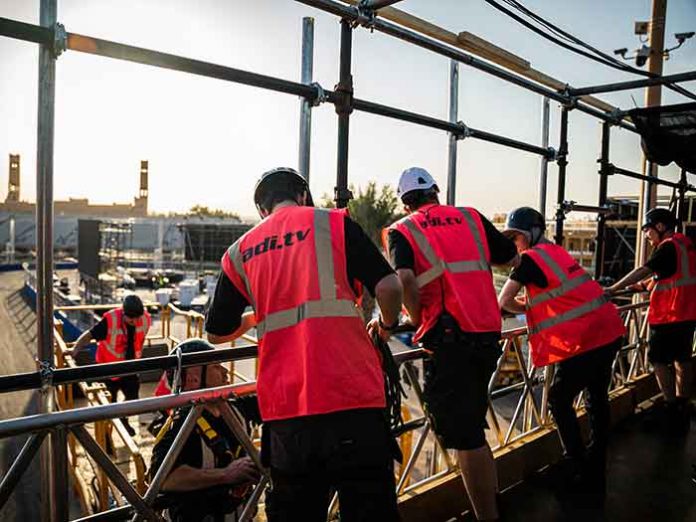 Formula E's 2023 CORE Diriyah ePrix made Motorsport history last month with the first ever digital pit lane, which featured 11 bespoke Driver Garages, a digital FIA Technical Garage and a TV Studio.
Designed and controlled by live event specialists adi.tv and built by modular structure experts The Halo Group, the 180m LED pit lane was installed at the Riyadh Street Circuit for the only night race in the Formula E race calendar.
The Halo Group was instructed by Formula E in 2021 to design and build a pitlane that worked as a temporary touring structure, with the attributes and structural integrity of a permanent garage.   The Halo Group had the vision to future proof the modular structures with digital technology at the prototyping stage, and with ADI's expertise were able to bring the garage to life at the testing circuit in Valencia. The team were able to fully realise this vision at the race circuit in Riyadh.
The digital displays utilised over 200 hours of unique content to modernise the look and feel of the pit lane – which historically features static, printed signage – as well as offering Formula E a flexible canvas to promote the drivers, race sponsors, brand partners and their own messaging to the 35,000 in-venue spectators and global TV audience.
Through the combination of high-resolution LED displays and ADI's bespoke playout solution, ADI's on-site crew had the ability to turn all of the separate digital garages into a single canvas – with animated video content running seamlessly from garage to garage. In addition to showing team branding and race statistics, an unprecedented automated system was developed, which allowed the FIA technical team to trigger in-race regulation flags and display them throughout the pit lane's digital canvas in real time.
A total of 1,500 sqm of ADI's LED technology was deployed across the track, hospitality, fan village and pit lane, which created a brand-new race presentation experience for drivers, teams, guests and remote Formula E fans.
"ADI and The Halo Group are innovating with Formula E to bring new, exciting solutions to the race day, and we believe that the digital pit lane we delivered for the Diriyah ePrix is the future of motorsport," stated ADI's Global Head of Sales, Thomas Taylor. "Our conversations with Formula E are just one of many that we are having in the world of motorsport. There's a real appetite to take sports presentation to the next level and within Formula 1, Extreme E and MotoGP, we are seeing more and more innovation.
Taylor described the project as "a step into the unknown" since this was the first ever LED pit lane in the history of motorsport. "However, any challenges that could have arisen were swiftly overcome by early engagement with key stakeholders across the FIA, broadcast and Formula E. ADI's expertise in LED, AV production, creative content and sports presentation fused perfectly with Halo's unique modular structure system, and enabled us to pitch new ideas and concepts to the Formula E team," he commented. "Together, we found the perfect balance between innovation and the FIA's strict sporting regulations to deliver something truly special – a solution that will hopefully revolutionise and elevate the race day experience for years to come."
Gareth Chappell, Co-Founder of The Halo Group, added: "As soon as we were given the opportunity to deliver a proof of concept for Formula E the first phone call we made was to ADI. The team share the same ethos as us when looking at innovation and pushing the boundaries. Being able to create a prototype together and see it through to a first in motorsport is incredibly exciting."
Photos: ADI.tv