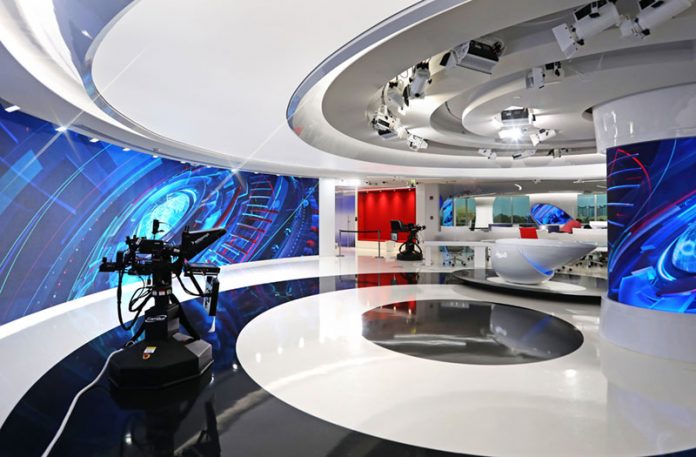 Al Arabiya Network has unveiled its sleek new broadcast studio and newsroom. Launched in March as the world was going into lockdown due to the COVID-19 pandemic, the studio incorporates three separate curved video walls made up of some 140 sq m of Barco LED panels.
"In our new studio, it is all about the graphics," commented Fadi Radi, Director of Creative at Al Arabiya. "You can see a video wall in practically any studio shot with a presenter. Certainly, in times when people have become used to hyper realistic imagery, the video wall image quality will make or break the show. That's why we only wanted the best of the best."
The Director of Creative went on to describe the process of bringing perfect on-screen image quality to such a unique space, which is equipped with 13 robotic cameras that travel dynamically between two concave and convex video walls. "We wanted consistent, high-contrast and saturated colours for our graphics across the entire studio design, and we needed them to be presented in the best possible resolution," Radi recalled. "An additional challenge was the fact that our studio allows daylight to come in, so we needed colours that were equally stunning at night as during the day. Barco certainly has made this possible."
The technology is driven by Barco's Infinipix image processing platform, which is well integrated with Vizrt's video playout platform. In addition, with Barco's E2 screen management tool, the Al Arabiya production team is able to develop an almost unlimited number of content templates to cater for the network's 24/7 programming schedule.
"Barco technology offers us so many creative options," Radi commented. "One technique that we like to use, for example, is the virtual window – a moving camera with graphics that move in the same direction of the camera, based on optical tracking. Thanks to Barco's image processing, this can all be done in perfect resolution, and with no sign of jittering or glitching."
As always, Barco's local partner, Intertech was the preferred partner for design, installation, testing and commissioning. In their combined history, Barco and Intertech have completed more than 20 studio installations. "The excellent service and fast support we have experienced in these years have strengthened us in our belief that the Intertech/Barco partnership is our best guarantee to keep our video walls up and running 24/7, without interruption," commented Safwan Harcouss, Lighting Manager at Al Arabiya).
The new studio also benefitted from a range of ETC lighting solutions, including a Sensor3 Power Control system, a Gio @5 Eos-family control console, Response Mk2 DMX Gateways and DataTrack Backbone system – all of which were supplied by ETC dealer, Oasis Enterprises. "Having worked successfully with ETC products in the past, we are confident that the new additions will perform well," Harcouss commented.
Lighting Systems Manager at Oasis Enterprises, Karim Abdel Massih, added: "We have worked closely with Al Arabiya for many years and they already have experience of the high quality that ETC products bring. We know that these new additions to their latest TV studios will work well, and we look forward to seeing new ETC product releases."