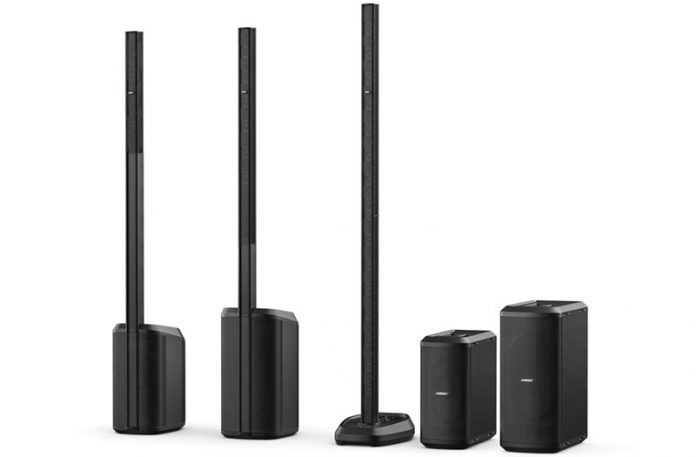 Bose Professional has launched its new L1 Pro portable line array systems.
The next-level advancement of technology developed by Bose 17 years ago with the release of the original L1, the L1 Pro systems comprise the L1 Pro8, the L1 Pro16, and L1 Pro32, with a choice of two subwoofers – the Bose Sub1 and Sub2.
As well as 180-degree horizontal coverage, a unique RaceTrack woofer design integrated into the L1 Pro8, L1 Pro16 and the Bose Sub1 and Sub2 modular subwoofers provides extended base response and less bulk. Built-in multi-channel mixers offer EQ, reverb and phantom power, while Bluetooth streaming capabilities and access to the complete library of ToneMatch custom EQ presets allows performers to play with recording-studio tonal quality.
Designed to suit different styles and audiences, the three systems are suited for a range of applications, with the L1 Pro8 suited for intimate spaces; the L1 Pro16 ideal for small-to-medium spaces; and the L1 Pro32 designed to entertain large audiences.
"The new L1 Pro family gives users an ideal balance of performance and control on stage and portability everywhere else," commented Craig Jackson, portable PA category manager for Bose Professional. "We took what our customers loved about the original L1 systems and focused on making improvements in almost every dimension. The L1 Pro family delivers more output and bass extension than ever before and doesn't compromise on portability. We've expanded the I/O and integrated ToneMatch technology, allowing users to quickly optimise the sound of their instruments and microphones. And with our new L1 Mix app, complete control of all mixing functionality is available from your mobile device. We are excited to bring the L1 Pro family to market and can't wait for our customers to experience them."
The Bose L1 Pro portable systems are complimented by the L1 Mix app, placing complete wireless control in the hands of users for on-the-fly tweaks via controls that are both intuitive and instant.
The L1 Pro8 weighs in at 17.7kg and features eight articulated 2in neodymium drivers and an integrated 7in by 13in subwoofer; the L1 Pro16 weighs 24.4kg, featuring 16 articulated 2in neodymium drivers and an integrated 10in by 18in subwoofer; while the L1 Pro32 weighs in at just 13kg and can connect by a single cable to the Sub1 or Sub2 modular subwoofers.
The L1 Pro portable line array systems are shipping now.