Stage Audio Works celebrated unprecedented success at Mediatech 2019, with an eye-catching two-storey booth design that helped the company secure a number of deals...
The 1st year Academy Learners at the CTN branch on their experiences assisting with a Township Theatre event in Khayelitsha. https://gearhouse.co.za
The video shows the full version of #LightUp2018 multimedia spectacle at the Burj Khalifa by www.ao-creative.com for New Year´s Eve 2018. An amazing merging...
Asian Para Youth Games Dubai, Multimedia Laser Show performed on stage in the stadium. Outdoor setup with high power KVANT Laser systems, CO2 Effects,...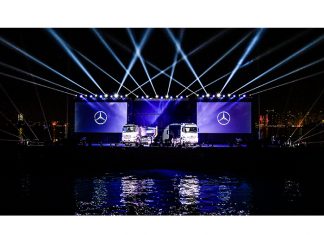 The new Mercedes-Benz Actros and Arocs trucks launched in the Middle East and Africa in magnificent style with Germany-based tarm Showlaser. The regional launch of...
Taking musical performances to new heights, Jebel Jais, the UAE's tallest peak, hosted the second edition of the highest concert in the country last...
In this video MA's Chris West is introducing the new MA Lighting grandMA3 series at Prolight + Sound 2018… https://www.youtube.com/watch?v=69E97rttHLs&feature=youtu.be www.malighting.com
For years on end, the Dubai Film Festival has been working closely together with ShowTex Middle East to offer its numerous visitors the ultimate...
An eclectic art installation of floating balloons, mimicking the illusion of zero gravity, welcomed the guests when they entered the festive venue. The bold...
Gearhouse Group South Africa has unveiled a new promotional video. "Let Gearhouse Group take care of the technical aspects of your event. BIG or SMALL...your...