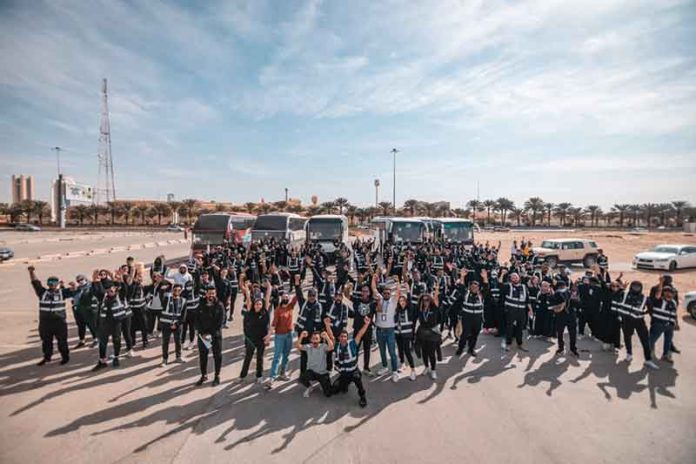 When it comes to industry-wide issues, the live event sector can be broadly split into two types of people: those who get their heads down and make the best of a bad situation, and those who don't accept the status quo, and do something to fix the problem – Nadim Jamal and Murad Shisha fall very much into the latter group. As former UAE-based freelancers, the pair experienced a genuine shortage of representation within the local community and, sensing an opportunity to build something that would transform the regional landscape, took matters into their own hands, creating event solution agency, Event Lab. 
"We started the company from our living rooms back in 2013, with the very simple goal of helping match event professionals to opportunities," Jamal told TPMEA, thinking back on the origins of the company. "We were already helping clients build teams on many freelance projects we were involved in and as we identified this gap in the market, we realised that if we were to formalise this as a professional service, we could scale it to help even more people find great opportunities in a win-win arrangement that benefits candidates, clients, and us."
With a strong conviction to recommend only "good people who want to do good work", the fledgling company quickly incubated a co-operative culture, which emphasised the importance of approachability, professionalism and friendliness and earned them a wave of clients. "Once clients and candidates came to understand the value of the service, the business really took off, growing organically and quickly," Jamal recalled. 
Six years ago, the Event Lab team identified another gap in the market and formed a Guest Service Staffing department which prioritised planning, hand-selecting, training and management onsite according to international standards. "This was about so much more than just deployment of Ushers and Hosting Staff," Jamal noted. "It's about working closely with clients to really understand their requirements, planning to the smallest detail, and ultimately delivering an unmatched experience to guests by deploying top quality guest services personnel and managing them with precision on site."
Working closely with both governmental agencies as well as most of the largest event agencies operating throughout the region, Event Lab has placed Guest Services staff at the most prestigious venues and events in the region – from large-scale events in Saudi Arabia and Qatar, to providing ushers for every event since the opening of  Coca-Cola Arena and Etihad Arena. "We now have more than 12,000 Guest Services staff from throughout the GCC in our database," Jamal revealed, illustrating the scale of the department. "On one weekend in 2019, we provided 1,200 Guest Services staff at the Special Olympics, as well as 350 Guest Services personnel at the Mother of the Nation Festival."
As Event Lab has grown, it has expanded its scope to include all manner of fields of work, from graphic designers to operations, technical, production, site managers, ushers, and hospitality. "We help our clients find the best matched resources they could possibly need on a project," Jamal stated.
The company's database has grown to over 20,000 professionals based all over the world. "Wherever there are event professionals that speak English or Arabic, we have some representation," Jamal said, adding that despite having a large talent pool, the vetting process remains stringent. "We still rely heavily on personal recommendations," he shared. "When someone new signs up, if we don't know them personally, we will know someone who does." 
Another area of growth is in the type of recruitment the company offers. "Around five years ago, we evolved from offering only freelance placements to also placing full-time candidates," Jamal revealed. "In fact, that department has grown by more than 200% this year. The fact that we place so many freelancers throughout every position in the chain makes us ideal full-time recruiters, because we understand the network inside-out and we understand the personalities of people and the requirements of clients, so we can contextualise what they need." 
Expo 2020 proved to be a transformational catalyst for expansion that saw Event Lab scale up to 35 full-time members of staff to deal with the sheer volume of work, which at one point saw the company place over 1,200 people in various roles for several different entities across the site. And thanks to the influx of international work, Jamal was pleased to report that the company has been able to keep the same team in place even after Expo 2020 came to an end. "Thankfully, Saudi Arabia and Qatar have picked up massively to keep this large team busy even after Expo," he said. "We fell in love with everybody who came in and they are all important members of the team who we want to continue to move forward with."
According to Jamal, Saudi Arabia is proving to be a game-changer for the business. "The scale of the projects in KSA is so enormous that it's not unheard of for a client to come and ask for 800 ushers, seven days a week for three months, or a team of 150 skilled professionals from all over the world to deliver a season," he said, using MDLBEAST Soundstorm, Riyadh Season, and Formula 1 Jeddah as recent examples. 
Key to success in new markets such as Saudi Arabia is the development of local databases. "We're focusing on building networks for each country that include a good mix of Saudi Nationals and locally-based expat professionals," Jamal explained. "We understand how important it is to promote local talent and will strive to continue to do that." 
With Event Lab proud to be 'by freelancers, for freelancers', the company prides itself on its flexibility, agility, and precision. "We cater to the events industry from within the industry with the flexibility, speed and accuracy it needs," Jamal commented. "We can help an organisation with part or all their recruitment, ranging from building a work chart and populating the whole thing at any stage of the project – whether it's pitch, planning or execution – to providing a few guest services professionals. Clients especially in the UK, Europe or USA doing projects in Saudi Arabia find this very helpful as it enables them to build a tried-and-tested team of any size, of professionals who have worked in the region and understand it with ease." 
In the past two years, Event Lab has delivered more than 2,800 projects, with over 6,400 skilled freelance placements and more than 230 full-time placements. With the company having established trade licences in both Saudi Arabia and Qatar, the potential for growth is already beginning to be realised. 
"We are already discussions with many of the prominent mega and giga projects in the region, and we aim to continue to provide international standard, locally flavoured solutions," Jamal commented. "We will continue to grow our services, creating more opportunities and offering services to our clients whatever the size may be. Success for all is one of our values, and by doing what we do, we ensure success for everyone – the event, the client, and the jobseeker.
Photos: EventLab