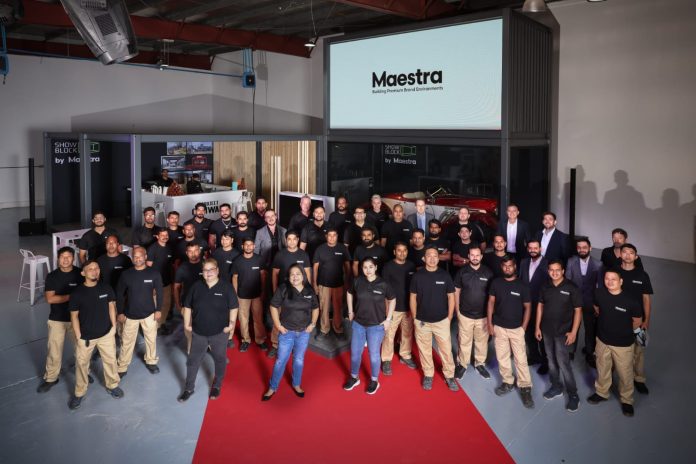 Looking around the cavernous 40,000 sq ft warehouse at Maestra's Dubai headquarters, it's hard to imagine the start-up AV rental business the company started life as back in 2013. Almost a decade on, Maestra has expanded into a multidisciplined supplier of not just audio-visual equipment, but also carpentry and joinery, CNC machining, paint finishing, metalwork and pretty much any other discipline that lends itself to producing turnkey events solutions for some of the world's leading luxury brands.  
"I saw a gap in the market – particularly for luxury projects, where clients were looking for certain types of AV equipment to use on high-level fashion shows and product launches rather than your normal rock 'n' roll equipment," began Founder and Managing Director, Tom Clements, looking back on the origins of the company.
After a few years of delivering projects for the likes of Cartier, Chanel, Dior and Hermes and becoming synonymous with the luxury market, the Maestra team began to receive more and more enquiries for full turnkey solutions. "A lot of our clients were asking if we could translate what we were doing on the technical side into a full fabrication and build," he recalled. "They wanted a supplier that could bridge the gap, so they were are not having to handle multiple different AV and scenic companies." And that is exactly what Clements and his team created. "We've structured ourselves now as being a one-stop shop," he explained. "We have a full technical AV team like we've always had, and now we've developed a full production facility attached right here in DIP, so everything is here in-house in one place."
The Managing Director showed TPMEA around Maestra's impressive facility, which was a hive of activity, from the technical warehouse full of lighting, audio and video equipment being prepped, to the fabrication workshop with brand-new high-speed CNC machinery and a fully pressurised painting environment. "A lot of our clients like to come here and see how projects are progressing," Clements said of the space
"We model our team on being a helping hand that clients can lean on. We've had some basing themselves here at the warehouse for the duration of projects and working with the team. Meanwhile, we've got two PMs sitting in our clients' offices as it's easier for them to work as part of the client's team," he explained. "We try to be flexible and keep ourselves open to working in whichever way suits the client. The market is so fast moving, you can't be fixed in how you deliver a project. That is part of the reason why it was so important to have everyone here together, so if we need to make a change to something, everything is here on site and communication is quick and efficient."
One point Clements was keen to stress is that Maestra is a partner for creative agencies, rather than a creative agency in its own right. "We're quite hard lined on this fact," he stated. "Creative is not what we do; we offer a specialist solution to fulfil our creative clients' desires, turning good ideas into reality."
On the subject of technology, Clements noted that rather than being rider-driven, the projects Maestra tends to take on are more solution orientated. "We've never been tied into working with particular manufacturers. Our job is to find the best product to integrate into a solution, build or piece of scenery that will deliver against the brief," he described. "Sometimes there's nothing on the market that is appropriate for our needs, and that means doing some internal research and development and fabricating something bespoke in-house."
While Maestra's projects are temporary by their very nature, build quality is still of the utmost importance. "A lot of projects we build tend to go from temporary installations to semi-permanent, so there's an expectation of quality and durability," he said. "It's the same with the technology that we're integrating – it needs to last."
Tight timelines are a constant source of challenge for many in the industry, however for Clements, he sees short deadlines as part and parcel of operating a business in the region. "Some of the timelines we're working to are super last-minute," he laughed. "It's great to be brought in early, but it's the nature of this region that many projects are only confirmed at short notice. Once you accept that and model your organisation to be able to handle that, the more successful you'll be."
According to Clements, the biggest challenge is seasonality. "When we look at our planning over the year, a lot of clients want to do things in a very bunched up period, and it's about how we structure ourselves to be able to manage the demand through that period and make sure it's done in a way where clients are getting the best service during those peak periods," he stated.
As a company that prides itself on making its clients' lives easier, Maestra is always looking to invest in solutions that are in demand. A case in point is the recent collaboration with UK-based premium temporary structure provider, Showblock (read more about this in TPMEA38). "The collaboration with Showblock comes from us seeing a genuine need among our clients for something a premium structure that isn't tent-based," Clements noted. "Showblock is unique – it offers a premium structure, more modern and architecturally designed than traditional marquees."
Maestra now operates projects throughout the GCC and beyond from its Dubai HQ, and a Saudi Arabian satellite office is in the pipeline for 2023. "There will always be a sharing of material and kit, but the idea is to put a workshop there and hold stock there, so we can offer the same turnkey solution and level of services in KSA as we do here in Dubai," Clements revealed. "A lot of jobs we do for luxury brands in Saudi Arabia need a quick solution that can be delivered there and then, and this could be a game-changer for us in the country."
Commenting on the industry in general, Clements noted that it is no longer the case that there's just one large AV supplier and one large scenic company that sweep up all the work. "There's a real diverse mix and options available for clients, which is good for the industry in the region," he concluded. "But we add value by easing the workload of our clients through our turnkey offering and strong project management."
Photos: Maestra