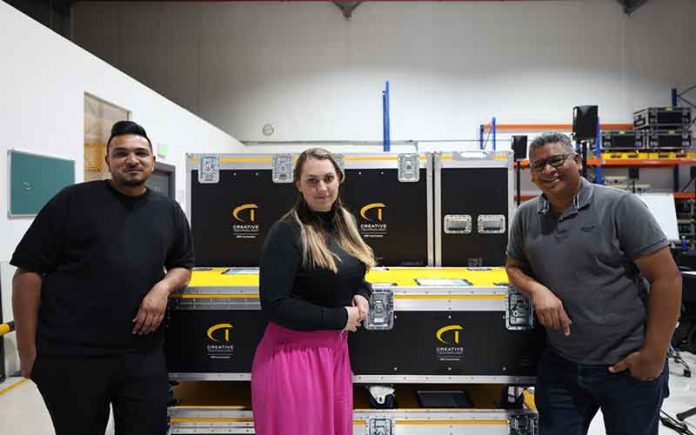 Creative Technology Middle East (CTME) has appointed Jemma Joy as its Head of Operations, as well as two new Project Managers, Croft Clinton and Bhans Sheomangal.
An accomplished Production and Operations Manager with over 20 years of experience in the events industry, Joy has been involved in some of the region's biggest projects, including Expo 2020 Dubai, Qasr Al Hosn, Laureus World Sports Awards, Dubai World Cup, and Volvo Ocean Race to name a few.
"I have worked alongside CT on some of the region's biggest and most technically advanced shows in the past and I am delighted to now be part of the CTME team," she commented. "The talent here is professional, dedicated and highly trained. The equipment selection, quality and management are second to none, with new technology arriving daily. Now as a full-service supplier, CT is perfectly positioned to bring something special to the Middle East market with the support from the entire CT and NEP network."
New PM Clinton brings over 10 years of experience within the live events industry, having successfully planned and executed technical management across multiple high-profile projects such as Jubilee Stage Expo2020 Dubai, UFC 242 – Red Hot Chilli Peppers concert and IDEX 2021 to name a few.
"I am proud to be part of such a talented, fun, and motivated team that is dedicated to making an impact on the business we are working in," he stated. "I am looking forward to working on the incredible projects we have lined up over the coming season."
Sheomangal meanwhile brings over 14 years of experience throughout the Middle East and Africa to his new role. He has a diverse portfolio across corporate, sports, weddings, live entertainment, festivals, and large-scale event spectaculars, working on some of the most technically complex projects such as David Guetta NYE at the Louvre,FIFA World Cup, and F1 Jeddah to name a few.
"I am really excited about starting at CT and I am hoping to add value to the team and look forward to opportunities to grow while delivering first-class projects across the Middle East," he said.
Any Reardon, Managing Director, added: "We are excited to be building the team with highly skilled and well-respected industry professionals who will further strengthen our core areas across the business. It's a great time to have them on board as we approach our busy season. A warm welcome to you all from the management team at CTME."