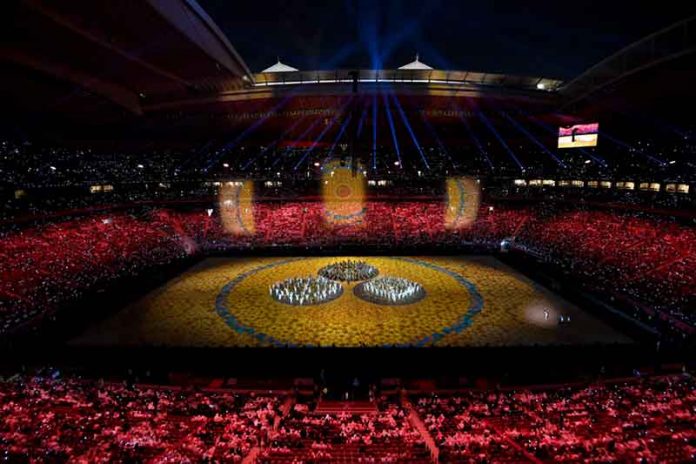 Even before a ball was kicked at the hosts' opening FIFA Arab Cup Qatar 2021 match against Bahrain, there was a feast for the eyes as the newly inaugurated Al Bayt Stadium staged a stunning opening ceremony. In a show befitting the historic occasion, fans were treated to a jaw-dropping pyrotechnics and projection display, along with beautiful choreography and performances that featured traditional themes, scenes, and costumes from the Arab region.
Having previously delivered numerous large-scale projection-mapping projects in Qatar and with a local office in the country, Creative Technology (CT) was entrusted with the video projection elements of the ceremony.
The company supplied 20 Barco UDV-4K40 projectors to cover the full field of play, as well as a combination of more UDV-4K40 and Panasonic RQ35K projectors to cover three motorised transparent screens.
With each unit manually loaded up the steep step incline and narrow walkways of Al Bayt Stadium to the final seating level from the top concourse, the resulting projection was bright, high-contrast and able to reproduce high-quality content delivered by the client accurately within a full 4k workflow onto a large canvas size.
"We have been operating in Qatar for over 15 years, which is prior to Qatar being awarded the FIFA 2022 World Cup rights," commented Irum Ashraf, General Manager in Qatar. "Our presence as a supplier there will always remain a key part of our business. The World Cup in 2022 is a very exciting time for us. In readiness, we have just signed on an additional warehouse and employed further local staff, allowing us to service more projects. Beyond 2022 is also key for our local office as we are looking forward to the challenges that the 2023 Doha Expo and 2030 Asian Games bring."
Photo: FIFA