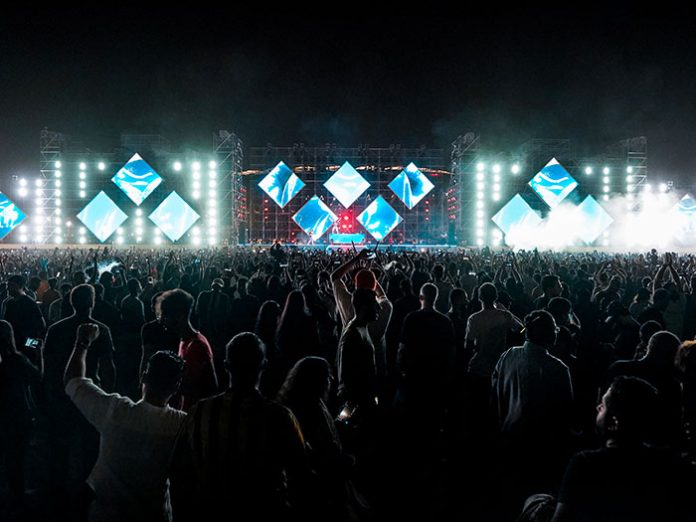 Creative Technology (CT) worked alongside its client The Manual, ROQU Media,Technical Director, John Adkins (World Class Events) and Production Designer, Mark Cunniffe to deliverall live video aspects of the The Jeddah World Festival closing ceremony.
The sold-out event, which took place on 18 July, was the first of its kind and saw acts such as Janet Jackson, Liam Payne, Future, Tyga, 50 Cent, Chris Brown and Steve Aoki perform. With the iconic King Abdullah Sports City Stadium as backdrop, the closing ceremony marked the end of the 41-day festival which, as the largest music event ever held in Saudi Arabia, marked a milestone in KSA's 2030 vision to expand the country's entertainment sector.
CT supplied 15 custom-mounted 4.8mm outdoor LED screens in the shape of diamonds at 4 x 4m each, two 4.8mm rolling DJ risers and 150m of ROE LED strip, which outlined the stage and catwalk. The unique design was achieved through rotating the screens 45 degrees across the 90m structure.
"Mark Cunniffe's creative design was so unique that it required an engineering safety approval before we could hang the LED panels 45 degrees along the scaffolding structure," Giorgio Devecchi, CT's Project Manager, explained. "Prior to delivering the project, we carried out pre-production testing of the large diamonds at CT headquarters in Dubai. During this pre-production phase, we compiled a full pixel study to ensure the content and live feed was displayed at the correct angle. Once on-site, the install went together seamlessly thanks to the dedication of the CT team of 12 professionals who worked together to achieve our client's creative brief."
CT provided a full video control package, driven by disguise gx 2 servers incorporating Notch for live camera processing and visual effects.
Tom Stocks, CT's Senior Video Engineer commented: "The screen control and switching was managed from a linked Barco E2 and S3 system with an additional two Image Pro 4K's at FOH for VJs and touring media servers. We also supplied our PPU for a sub mix of the broadcast cameras for IMAG to correspond to the diamond pixel area of the LED screens."
He continued: "A full 4k at 50 pixel for pixel workflow was maintained with our Gen 2 Barco system, Lightware 2.0 Matrix and Novastar 4K processors as well as 4K fibre distribution."
Devecchi adds: "The event was a huge success from start to end. Everyone came together to work as a team and our client, The Manual, did a fantastic job of bringing the full production to life. This is a new chapter for the local entertainment scene in Saudi Arabia, and it was a pleasure to be part of this fantastic event. Thank you once again to our client for trusting in our ability to deliver world-class video solutions."