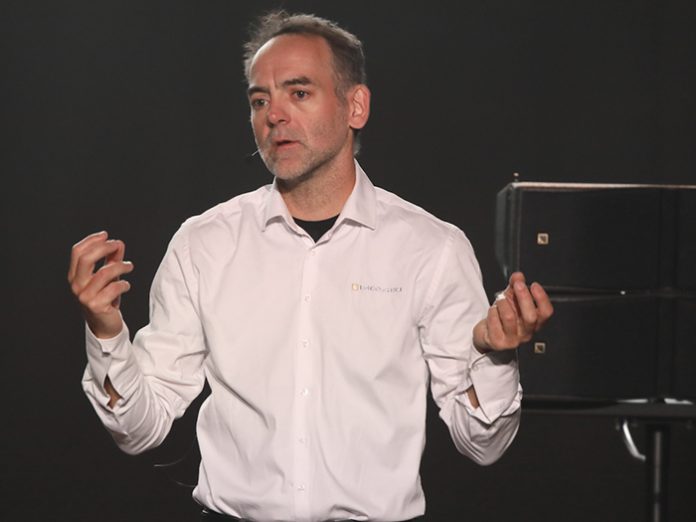 Earlier in 2018, L-Acoustics announced that DWR Distribution has officially been appointed as L-Acoustics Certified Provider Distributor for South Africa. DWR solidified their position as an L-Acoustics distribution partner with a series of memorable product launch events.
DWR invited industry representatives, together with their families, to their offices in Johannesburg. DWR managing director, Duncan Riley and his team transformed the parking lot at Kimbult Industrial Park into a fairground for the evening, complete with rides for the children, cotton candy, popcorn and dinner for all.
Central to the event was the opportunity for the industry to hear the impressive K2 Line Source Array from L-Acoustics in action. DWR invited one of South Africa's most celebrated rock bands, Prime Circle, to take the system through its paces. Much to the delight of all who attended, Prime Circle delivered a stellar performance, complemented by the crystal clarity of the L-Acoustics K2 Line Source Array and impressive light show.
Also present was a full-scale stage, complete with a new-to-market lighting technology called IVL Lighting by an innovative French company, Minuit Une. While the children were given free rein to play at the fairground, grownups were given an opportunity to play with the new MA Lighting  grandMA3 lighting console and the new DiGiCo S21 sound desk.
"The partnership between DWR and L-Acoustics is a great step forward for the DWR family, and we wanted to do something different to celebrate the moment," explained Riley. "Rather than taking moms and dads away from their families to attend another event, we wanted people to feel free to bring the kids and have some quality family time while enjoying the exceptional sound the L-Acoustics K2 Line Source Array has to offer."
Following the fun, DWR hosted a comprehensive product demonstration at the Teatro – Montecasino on 17 July, where L-Acoustics sales manager, Tim McCall presented the entire product range to some of the leading sound engineers and production companies in South Africa.
Speaking to Pro-Systems after the demonstration, McCall stated that L-Acoustics is optimistic about the brand's representation in South Africa going forward. "L-Acoustics is a company that is passionate about its people and the industry that we serve, which is an ethos that we see shared by DWR. We have already seen a significant difference to our business in South Africa," he stated.
Riley concurred stating: "We have been in discussions with L-Acoustics for almost three years and are confident that DWR has the right infrastructure, supported by the most equipped team to service L-Acoustics over the long haul."
According to Riley, DWR has made a significant investment in a wide range of L-Acoustics systems, which enabled the comprehensive product demonstration at the Teatro – Montecasino. "We have never had the opportunity to demonstrate the L-Acoustics products simultaneously in a venue that is designed for high-performance acoustics with the full range of products before," explained DWR's Richard Smith, who has been involved with the L-Acoustics brand for more than a decade. "I feel very optimistic about the future," he concludes.
Riley confirmed to Pro-Systems that DWR has all of the spares and accessories needed to provide full servicing and support for all L-Acoustics Systems in the country. "L-Acoustics has every confidence that DWR has the skills and experience to provide customers in South Africa with fast, efficient and professional support," McCall concluded.