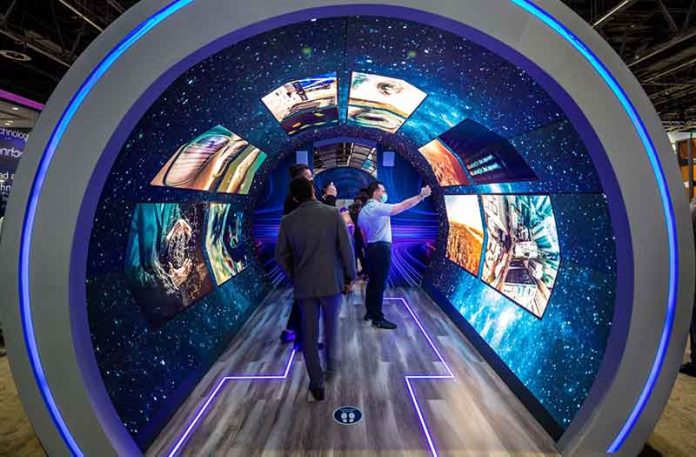 The inaugural edition of Integrate Middle East is set to attract the world's audio-visual and media technology professionals to Dubai.
Integrate Middle East 2023 is predicted to bring in over 7,000 professional visitors when it takes place at Dubai World Trade Centre (DWTC) from 16-18 May, 2023. These will include integrators, pro AV consultants and decision makers from application industries ranging from education technology buyers to smart home architects and design consultants to real estate developers, hospitality service providers, retail groups, and enterprise solution buyers.
Co-located with CABSAT, the long-running trade event for the media technology sector, expecting 14,000 visitors, Integrate Middle East builds on synergies to create a unique and highly-anticipated platform for the pro AV and system integration industry to benefit from.
Visitors will be able to explore products and services from the entire pro AV technology provider universe, ranging from world-class command and control centres (C3), touchless displays, and advanced pro-audio to vibrant immersive pro-visual live event solutions, future stores, and the latest options in hybrid working and campuses.
Integrate Middle East launches at a key time when market intelligence shows that the global Pro AV Market is prospering and set to reach $518.26 billion by end of 2027. Revolutionary technological advancements and decisive worldwide industry trends are expected to direct the positive growth of the global pro-AV market during the forecast period.
Emerging trends and debating points will be up for discussion at the Integrate Middle East Summit which will cover themes including smart buildings, the metaverse, and the future of work,  as well as business-critical digital signage, and sustainable design, as they align with the AV industry and its agenda.
Attendees can hear from world-class speakers and industry specialists, such as Arno Buskop, Global Data, and Technology Director, Kinetic Worldwide; Joe Way, Director of Learning Environments, University of Southern California; and Yiannis Cabolis, Director of Technology Innovation, Electrosonic, while also making the most of valuable networking opportunities.
The industry guru and MC, Bob Snyder, will be presiding over the discussions; a well-known speaker for the AV, IT, IoT and smart building industries. As an editor, Snyder has followed hi-tech integration for three decades and served as a C-level consultant to hundreds of hi-tech companies.
"The Middle East is a fast-growing pro AV market with awesome installations in corporate, education, retail, government, medical, residential, and live events," said Snyder. "Integrators in the region leverage international solutions while adapting to local conditions with spectacular results. Integrate Middle East will be this year's must-attend event, bringing the latest in technology to Middle East integrators and their customers."
Japanese multinational Epson is among the first major industry players to book a spot to exhibit at Integrate Middle East.
Abdulnassir Ali, Regional Sales Manager Visual Instruments and Professional Display, Epson Middle East, said: "The demand for pro display solutions is growing exponentially in the Middle East and we at Epson are proud to showcase our products, which have been deployed by some of the leading entertainment organisations in the region, during the first-ever edition of Integrate Middle East."
Samer Otaibi, Vice President of Sales – Middle East, INFiLED, added: "INFiLED is committed to presenting visual feasts to the world, including the Middle East, as we will be joining the inaugural edition of Integrate Middle East, from May 16-18, 2023, at Dubai World Trade Centre."
Riju George, Group Director, Exhibitions, DWTC, said: "As the organiser of CABSAT, we have been hosting the media and broadcast industry, and its buyer groups, for the last 28 years. With many integrators already visiting CABSAT for many years, the addition of Integrate Middle East builds on great synergies for solution providers and buyers looking for a platform to tap into the strong growth potential in the AV industry in the MENA region."