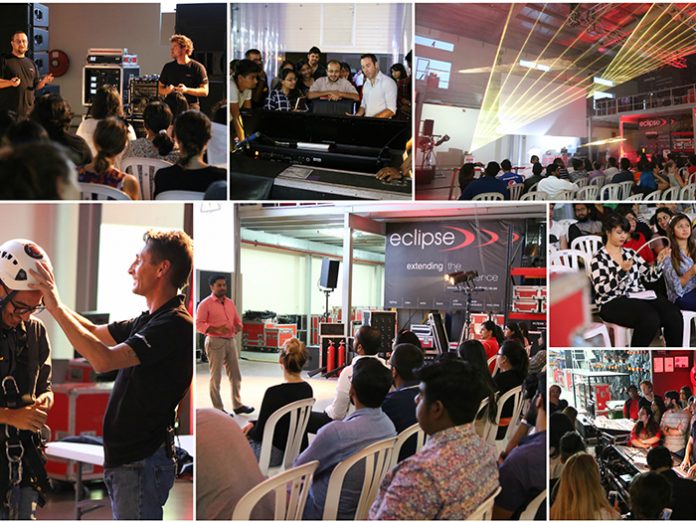 Following the success of the 2015 series of technical seminars, the eclipse Group organised another round for the 2016 students covering the basics of lighting, audio, video, rigging, power, special effects, lasers and health and safety. Taking place over two weeks at the eclipse warehouses in Dubai Investments Park, the heads of each department spent two hours with the students giving them an introduction to their discipline through theory and practical demonstrations.
Highlights from the seminars include a spectacular special effects and laser show from Flair SFX & Production's General Manager Sameer Rahman, a demonstration of the preparation needed to work at heights by Head of Rigging Neil Spencer as he hoisted a student up a purpose-built demo rig and the various up-close looks into the inner workings of the lighting, audio and power equipment.
Feedback from the students and organisers was fantastic, as Sonia Kwatra, EMDI student commented: "Great experience and insight of the technical aspects related to staging, video, audio, rigging and special effects. These aspects are the most integral part of any successful event and eclipse does it the best!"
Amrita Punjabi, another student continued: "eclipse being top in the technical industry have granted us a great live experience and exposure to all the technical production components including health and safety along with variation of design, staging, lighting and production aspects making our course outline more versatile."
Martin Lubach, eclipse Staging Services General Manager, concluded: "We are extremely happy with the outcome of this year's seminars, each of our speakers did an exceptional job of presenting their department by incorporating all the basic theory while engaging with the students via questions and answers or practical demonstrations. We look forward to what these students can achieve in the future and wish them good luck with their careers."
The company plans to continue their commitment to the development of the future event professionals by conducting their second internship programme for the coming events season. Furthermore, eclipse will be participating in this year's Eventice competition, an Apprentice-style contest where competitors complete challenges to win full-time employment in one of the top companies in the events industry.