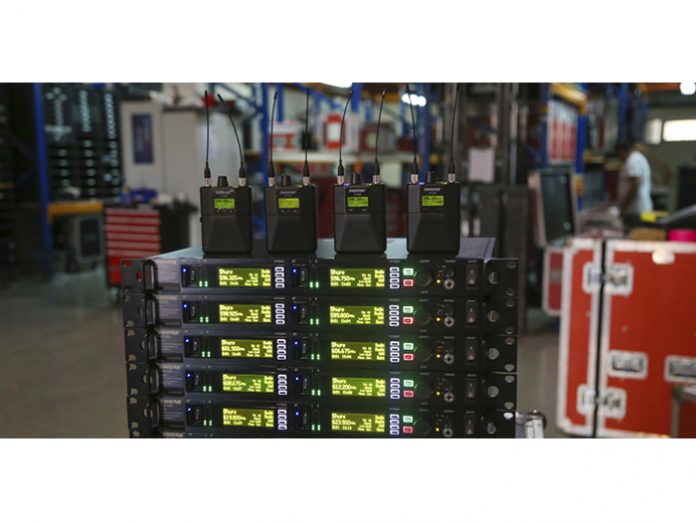 With the constantly growing demand of PSM 1000, UAE technical production provider to the live events industry, eclipse Staging Services, now has the largest stock of the product in the region with 16 TX and 24 RX, with its latest purchase.
John Parkhouse, Head of Audio at eclipse, commented: "We stock a large amount of both radio and wired mic products, all of which are day-to-day use for us. We opted to buy a large amount of Shure PSM 1000 because our market needs it. I can say that in the last 12/18 months, every touring rider I have seen requests them in most cases; the incoming tour is not willing to accept any option. This is not limited to concerts; the corporate market has also now got to a point in the region that such specific products are often requested too."
The full-rack, dual-channel, networkable transmitter is ideally suited for the demands of professional touring and installation applications, and the diversity bodypack receiver delivers RF signal and audio quality. Networkability over Ethernet connection enables remote control of transmitter functions and comprehensive frequency coordination via Wireless Workbench 6 software.
"The build quality and reliability is second to none but equally the sound quality of this product is exceptional and paramount by the very nature of what it is. Add to this dual diversity and the frequency management capabilities using Shure wireless workbench and it is simply an ideal product. We have a number of people in the department who specialise in all things RF and I can say they are ecstatic to have added this to our already comprehensive existing RF stock," Parkhouse added.
Working closely with the distributors of Shure, NMK Electronics, for the past several years, eclipse has relied on NMK's recommendation for top-tier brands and products. Parkhouse concluded: "NMK have always been a go-to company for all the products they represent since I have been in the UAE. They understand the needs and demands of a company like eclipse perfectly, because like us they exist in an environment where timing, response and prompt delivery is essential and they never let us down."