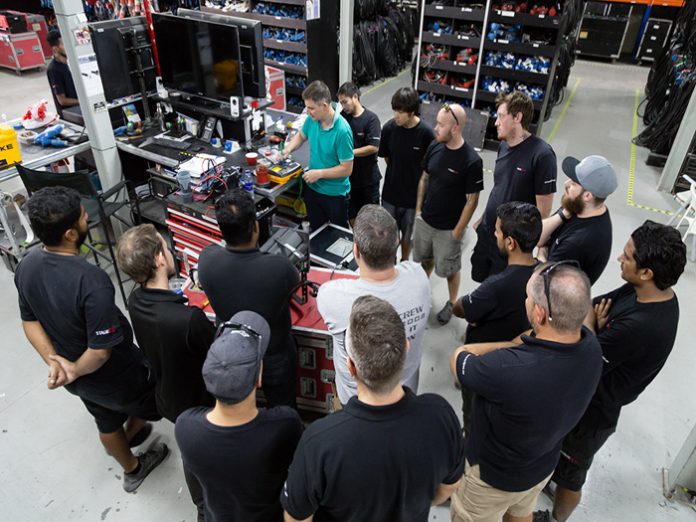 Dubai-based eclipse Group recently organised and hosted the first NAPIT City & Guilds Accredited electrical training programme outside the UK.
eclipse ensure its crew are up-to-date with current practices and aware of UK legislation, enabling tours and productions heading into the UAE to be assured of the best support. The company has invested in various training sessions previously, with this BS 7909 electrical course being the latest development.
James Eade was invited over to deliver the training at the eclipse headquarters in Dubai. James is a Chartered Engineer who represents several trade associations on various British Standards committees including those responsible for BS 7909 and BS 7671 amongst others. His breadth and depth of experience in the entertainment industry coupled with his work on standards and related committees mean that he is well-placed to provide accurate guidance on a pragmatic approach.
"I was delighted to be asked to help," stated Eade. "While the Middle East has made significant strides to uphold the highest electrical safety standards, a considerable divergence exists between the regulations prevalent in the UK and our region, particularly given the typically arduous conditions experienced in the Middle East,"
David Angelini, Head of Power at eclipse Staging Services echoed the last point. "The heat and sand can be a real ordeal at times so we've invested in the best H07 cables, Mennekes connectors and SES distribution to ensure longevity and robustness in the field."
The course itself consists of both theory and assessments, as well as a practical element to enable candidates to be able to test circuits and to check protection methods will be effective. "We have extensive stocks of power distribution equipment so it was easy to set up systems in the warehouse to practice some of the theory learnt in the classroom," said David.
Electrical safety in events and productions is fast rising up the agenda in the UK and ensuring that it is managed effectively and pragmatically in the typically short timescales of most events does require a good understanding of distribution and protection.
"The eclipse crew are a good bunch and I had a great time with them. My job was made easier by the standard of equipment and the prior knowledge of the crew – it was like a good UK company transported lock, stock and barrel into the desert," concluded Eade.