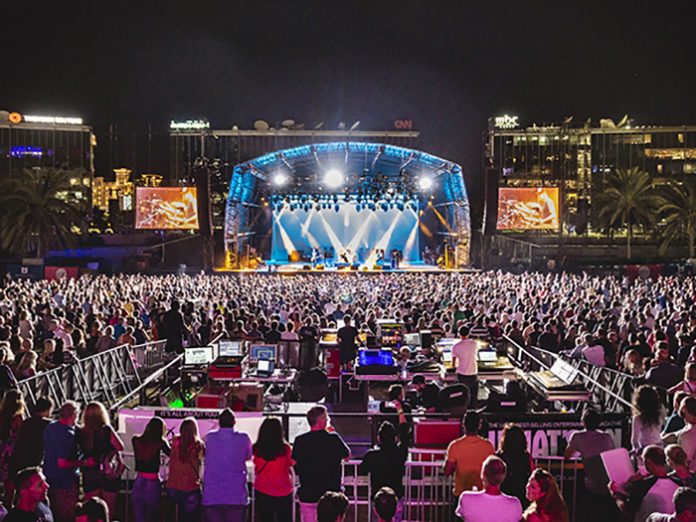 eclipse Staging Services once again supported the annual Party in the Park all-day festival which brought with it a Brit indie-rock line up of The Charlatans, Travis and Kaiser Chiefs, at the Dubai Media City Amphitheatre.
Also on eclipse's to-do list was the audio visual supply for the What's on Awards, the largest food and entertainment industry awards in the UAE. Despite the three-day gap between the two events, which would have given the teams plenty of time for manoeuvring and repositioning kit, there was little to change. The What's on Awards required the same amount of power as the main event, with two 350kVAs, one 320 kVA and one 200kVA generator for site power and three 350kVA synchronised generators for the stage power. Both events also called for 15km of cable ranging from 16a trs to 240mm powerlock.
This event marks the third time that the eclipse audio department has deployed a large d&b system in the Dubai Media City Amphitheatre, "It's starting to feel a little like home, and we really enjoy working there," commented Head of Audio, John Parkhouse. "Once again our d&b systems performed flawlessly on this event with the Array Processing feature throughout all hangs which were set to 'Full Glory'. We utilised a reduced amount of the PA for the WOA which was a very straight forward affair." The audio crew then "opened the whole system up" for the main event, "the real magic happened in monitor world and on stage to ensure timely and flawless changeovers as well as comprehensive RF monitoring to result in another very well executed show for the eclipse audio team."
The lighting team deployed over 250 fixtures on the night to cover the main stage as well as the Hype Arena, a second stage made to resemble a club environment for DJs and MCs. Included in the kit were Philips Vari-Lite VL3500 Wash FX, Martin by Harman Atomic Strobe 3000's, Clay Paky Sharpys, Clay Paky A.leda B-EYEs, Martin by Harman MAC Viper Profiles and two Lycian follow spots. For control, the team utilised their ChamSys MagicQ MQ 100 Pro console, a Luminex GigaCore, Luminex Ethernet, an MA Lighting grandMA2 and a grandMA NPU.
Supplying 130sqm of 9mm ROE LED, three channel camera PPU and two Green Hippo TAIGA media servers for control, the eclipse video crew had a 'walk in the park.' "These festival style events are becoming a norm for us, so set up and delivery is very smooth," commented Head of Video, Lee Worthington.
"We were thrilled to be able to come back to Party in the Park and deliver another spectacular event," concluded eclipse Staging Services General Manager, Martin Lubach. "The team's planning and preparation really shone through for this gig, resulting in a relaxed atmosphere where our Technicians and Touring Engineers could crack on with the task at hand."