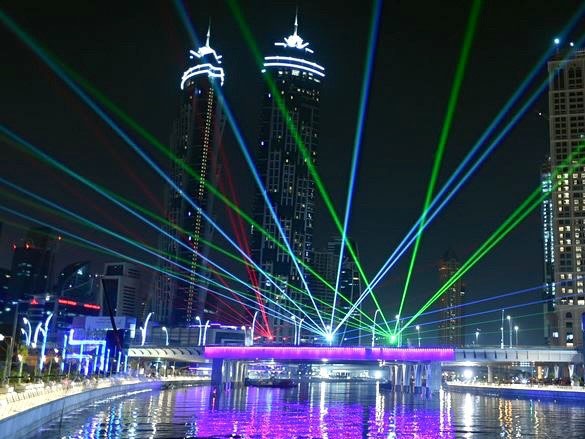 Working in partnership with Prodea Entertainment, ER Productions choreographed a four-minute laser show for the opening ceremony to highlight key features of the development. To that end, ER Productions installed a whopping 78 laser fixtures across the expansive location. It included six huge bridges that cross the 3.2km canal, which leads to the Burj Kalifa and links the Dubai Creek with the Arabian Gulf.
It will provide 24-hour access by boat to a new development of luxury hotels, housing, restaurants and shops at the heart of the city. Unveiled by Sheikh Mohammed bin Rashid Al Maktoum, who has been involved in the project from the outset, the event was an electric celebration of vision and urban design.
With Tripan RGB lasers and CO2 jets installed on the main stage, ER Productions designed bespoke graphics for the opening segment, which was projected onto water screens on the stage to accompany a troupe of aerial performers. At the end of the opening segment, the Sheikh lit a beacon across to the first bridge, triggering an awesome laser sequence, which travelled the full course of the canal and beyond into the night sky. Lasers were rigged on each bridge to create a connective skyline canopy for the Sheikh, who travelled the length of the newly opened waterway by canal boat.
A total of 72 lasers comprised of Phaenon Pro fixtures, BB3's and Laserblades were rigged onto each bridge by ER Productions, the latter of which created a crisscrossing effect around the Sheikh's boat as the display concluded.
Ryan Hagan, cofounder of ER Productions commented, "Such a large-scale event requires large quantities of gear and personnel. Meeting the requirements of the client and designing this project within budget was a challenge, but as always we have delivered beyond expectation and staging the largest outdoor laser display Dubai has ever seen is a huge achievement for the team at ER."