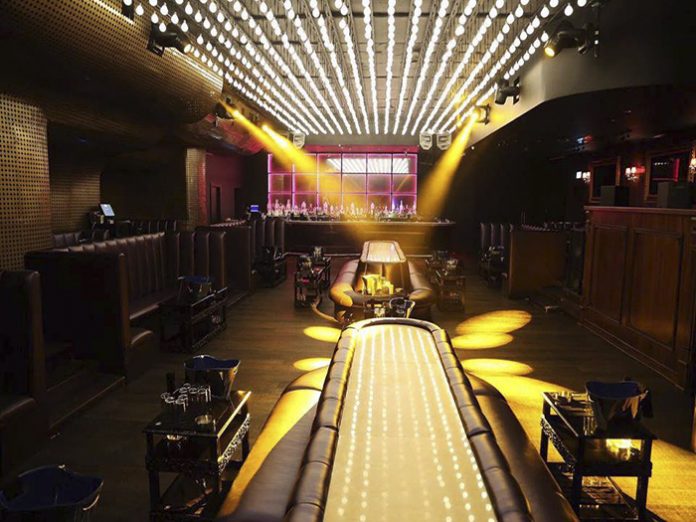 Vii – located, on the 7th floor of the Conrad Dubai hotel – recently undertook a complete overhaul, introducing a fresh look and a new Funktion-One sound system, supplied and installed by Em-Tec.
The initial brief was for a high-end club/lounge space, but as the concept evolved, the emphasis shifted towards producing a high-end, DJ-led nightclub, instead. The aim was to make Vii a world-class nightclub with Funktion-One sound across the whole venue. To achieve this, Em-Tec designed a tailor-made sound system with a focus on providing impactful audio with even coverage throughout.
Funktion-One's Evo 6 loudspeakers, teamed with the manufacturer's F221 bass speakers, form the core of the solution. The full speaker system comprises a range of Funktion-One fixtures, including 6 Evo-6Es; 4 Res 2 full range speakers, 2 F101; 4 F1201; a BR118 and 6 BR218 bass reflex enclosures; 2 F221 and 4 F218mk2 bass enclosures; and an Infrabass 218 Bass Loudspeaker.
"Funktion-One are simply the best loudspeakers for this environment," Em-Tec's Andy Williams noted. "They are able to play at extremely high volume with very low or no distortion and still keep the clarity of audio. The sound played by these speakers covers the full range from deep bass to crystal clear highs with no loss of quality."
A Funktion-One MC2 E45 and E90 provide amplification. "As audio is a chain, it is vital that the amplifiers used in the system ensure that the full potential of amazing Funktion-One loudspeakers is fulfilled," Williams added. "The MC2 amplifiers that were used across the venue not only give an amazing audio quality but are extremely reliable and efficient. That's why, along with FFA amplifiers, they are recommended by Funktion-One."
Completing the chain are 3 XTA DC1048 processors, another Funktion-One recommendation. "XTA processors provide great DAC converters along with great functionality to control the loudspeakers to their maximum potential," Williams continued.
As the venue is located within a hotel, Em-Tec had to ensure minimum disturbance to neighbours and guests. In this respect, the directional nature of Funktion-One speakers proved invaluable. Working alongside Matthew Carter from Dubai-based acoustic consultancy Acoustic Logic, Em-Tec carried out a full design study and soundproofing to minimise the effect on the surrounding area. The club features 3 key DJ performance spaces: the club area, garden terrace and lounge. Depending on the evening, these can operate simultaneously to provide a unique set for each zone, or music can be streamed from one DJ across the whole system – aided by a Formula Sound ZMR-80 zone mixer and AAVC2 limiter.
Williams concluded: "This project was highly enjoyable to work on, utilising the latest models of high-end equipment available to ensure that our client and his guests have the best audio experience possible."