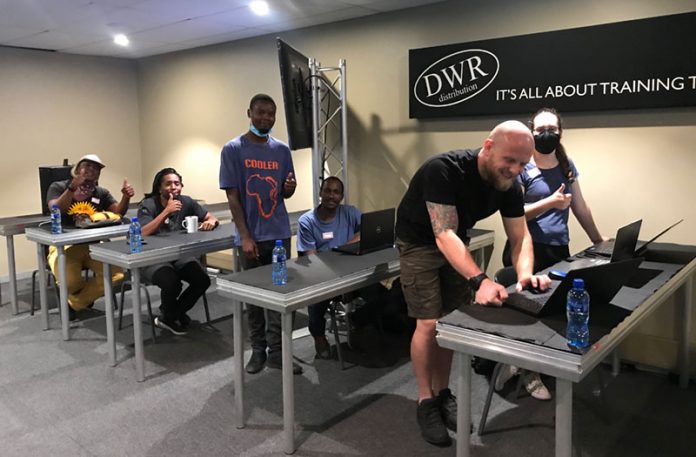 The official MA University training programme is in full swing in South Africa, with numerous grandMA3 Basic Training days taking place in Johannesburg and a grandMA2 Basic Training course recently hosted in Durban, all presented free of charge.
While there are currently only a few MA Lighting grandMA3 consoles in South Africa, it has not stopped lighting designers and technicians from keeping up to date with the latest trends and technology. DWR Distribution's Jannie de Jager has orchestrated and presented grandMA3 Basic Training in Johannesburg, where three workshops took place in November (including a workshop dedicated to the UJ Theatre crew), and a date has been pencilled in to host the Joburg Theatre at the start of December.
Meanwhile, in Durban, Aubrey Ndaba and Bongani Makhanya wanted to reach out and create a training opportunity for technicians based in KwaZulu Natal. The Playhouse Company kindly opened its doors and made a venue available to host a two-day grandMA2 workshop, presented by certified MA Trainer Olebogeng Boinamo, on 9 and 10 November. The training was attended by 16 technicians and was made possible thanks to Nosipho Bophela, who worked behind the scenes to secure the venue, promote the event, and was available on both days to lend a helping hand.
"Thank you very much for the opportunity you gave, and we hope to build from this," said Njabulo Zuma, who attended the Durban training. "We look forward to attending more training in the future."
The aim is to visit Durban again early in the new year, to present a follow-up grandMA3 training course.
"With the live events industry quieter than usual, I would like to invite all theatres who have an interest in the grandMA to contact me," said Jannie de Jager. "Our course is currently being offered free of charge and includes a full rundown and practical approach to the new MA3 platform with delegates receiving a certificate of attendance on completion. It's also a good opportunity for the theatre lighting designers and crew to leave the theatre, see new faces and enjoy a cup of coffee while learning something new."