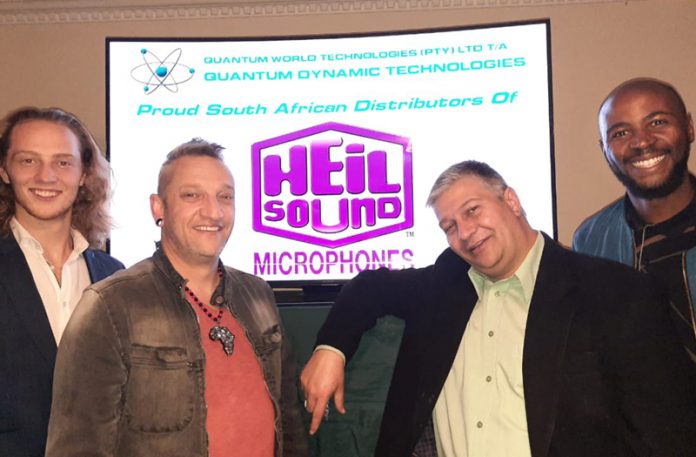 Heil Sound has named Quantum Dynamic Technologies (QDT) as its exclusive distributor for South Africa.
QDT will distribute Heil Sound's popular Pro Series microphones and HDK drum mic kits as well as ProSet headphones. The appointment comes as part of an expansion effort in response to increased sales and product awareness outside of the USA for Heil Sound products.
Located in Johannesburg, Quantum Dynamic Technologies – a subsidiary of Quantum World Technologies – imports and distributes a wide variety of professional sound reinforcement products as well as professional AV video products, including multimedia and stage lighting systems and solutions to the pro audio industry throughout the country.
Guy Harris is managing director for QDT and gave considerable thought to finding the ideal mic company to work with. "We have been searching for some time for the right microphone line to represent and partner within South Africa," he commented. "Heil Sound products have an exceptional reputation here and are used by some professionals, but until now the brand has not been formally represented here as it should be."
He added: "Our goal is to use our distribution expertise to promote Heil Sound microphones in all relevant markets. All of us at QDT are very excited with the distribution partnership between Heil Sound and QDT and we are looking forward to a fantastic and successful future with Heil Sound microphones in South Africa."
Ash Levitt, head of research and business development for Heil Sound stated: "We are excited to welcome Quantum Dynamic Technologies as our South African distributor. We have had loyal customers in South Africa for some time, but we have not had the opportunity to properly expand there until now. QDT is able to fill those needs and represent quality Heil Sound products to all corners of the South African market. We look forward to a great relationship with them in servicing the pro audio market in South Africa."