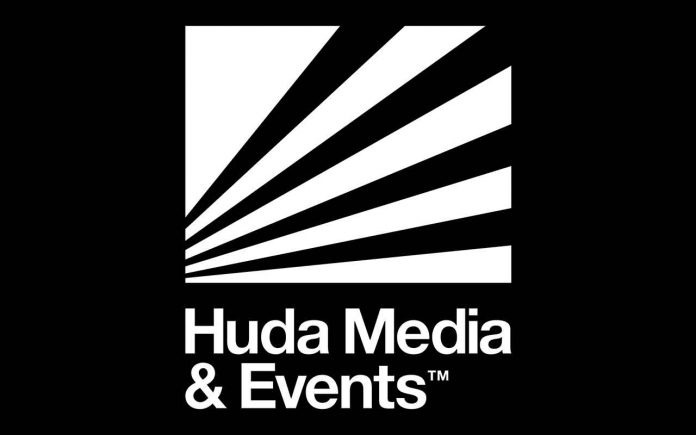 With over 20 years of experience in the Middle East and North African markets, Huda Lighting has a well-earned reputation as a titan of the architectural lighting sector. The company employs more than 250 people across its 10 branches and two showrooms, which are spread throughout the region. 
For years, Huda Lighting has been striving towards its vision: 'to be the lighting supplier of choice in the region'. However, recently the company broadened its horizons, partnering with creative studio Sila Sveta to launch a new events division, Huda Media & Events. 
Another industry stalwart, Sila Sveta is an interactive media, production and conceptual design company that has worked with some of the world's biggest artists and brands, from The Weeknd and Billie Eilish to Mercedes and Lamborghini. Founded in Moscow in 2008 by Alexander Us and Alexey Rozov, the company has bases in New York, Cyprus and has recently moved its operations into Dubai due to the ongoing geopolitical issues.
Huda Lighting Managing Director, Khaled B Alami explained that the idea of the division came about as a reaction to the rapid growth within the sector. "This is a market segment which is growing quickly, and it is a natural extension of our portfolio," he commented. "The demand nowadays has moved on from the traditional theatrical light show and has become more futuristic and creative, and we hope to offer something beyond what is currently available on the market."
Silvio Bartolo from Huda Lighting and Sila Sveta have worked together on several projects over the past five years and, as Bartolo explained, the partnership can work on many levels. "Huda Lighting has a very strong name in the industry all over the Middle East – we have been trusted with huge projects such as the Bulgari Hotel in Dubai and King Abdul Aziz Center for World Culture in Dhahran – so, there is already the brand recognition there, and there is also the financial backup to match," he began. 
"Of course, this is a new division for Huda Lighting, but it is in a complementary discipline" he added. "There's a natural synergy between the two companies that presents many possibilities when our strengths are combined."
Sila Sveta's Anastasia Filatova concurred, bringing up the strong relationship between the two companies as a big plus point for the new venture. "Sila has growing experience in the Middle East, but we understand that if we want to enter the market properly, we need to collaborate. Both companies trust in collaboration – this is how we see our common future."
While the new venture has been in the pipeline for a couple of years, with the Middle East outperforming many other regions around the world thanks in part to massive world-class events such as Expo 2020 in Dubai, Formula One in Abu Dhabi and Jeddah and the upcoming FIFA World Cup in Doha, both companies are keen to make waves in this rapidly expanding entertainment market. 
"We can see that it is an incredibly exciting time for the region, and we understand that the MEA market is growing quickly," said Filatova. "I'm more than sure the region could benefit from our expertise and that there will be a high demand for the new offering from Huda Media & Events."
According to Bartolo, the new venture won't be limited to just live events. "There will be a few areas where I anticipate demand," he hypothesised. "For example, we're working on a huge project in Saudi Arabia for a shopping mall, for which we will supply the LED, install it, programme it and then – alongside Sila as Huda Media & Events – we will produce all the content." Filatova added: "It's the logical move. We know we need to develop the business and Huda Lighting has the expertise that will help us do that together. Everything from museums to malls to art exhibitions needs good high-quality content and high-quality equipment, and Huda Media & Events can deliver both."
Bartolo added: "We come up with cutting-edge designs. Some people think that they cannot be done, but we always find ways to do them. We want to combine technologies – LED, lighting, lasers, holograms – and break the conventions that are so common in the region." 
Will the new venture see a large investment in inventory? Not according to Bartolo. "We're not going to pump all our money into buying masses of equipment straight away," he commented. "There are plenty of companies in the region that we already work with and we will continue to do so. The strong creative team is our main selling point and our people are our main investment." 
The operations will be based in Dubai, with several Sila personnel heading to the UAE to collaborate with the Huda Lighting team – something important to Bartolo, who also moved to Dubai at the start of the year after working in Qatar for eight years. "Sometimes we work with freelancers from all over the world, but the core team on the creative, design and technical side will be based in Dubai," he stated.  
Photos: Huda Media & Events
www.Instagram.com/hudamediaevents