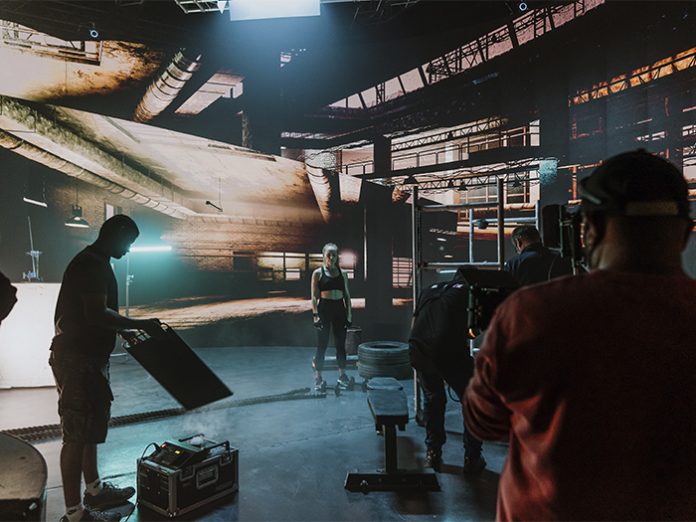 INFiLED has supplied a 24*5m LED customised wall for Fractal Studio in Dubai. The studio is committed to the field of extended reality (xR) and virtual productions (VR), and INFiLED GXII LED panels effectively provide support for its range of visual effects creation.
A large portion of Fractal Studio's production requires the utilisation of LED screens to construct real-time, realistic scenes, including TV commercials, dramas, feature films, broadcasts, and virtual events. Since the real-time rendering technology needs extremely high specifications for LED products, the screen must have a wide range of projected chromaticity, high refresh rate, and anti-glare surface during video recording.
To meet Fractal Studio's expectations for the screen, INFiLED built 560 ultra-precision GX II cabinets with consistently high quality. These cabinets are assembled into a 120-square-meter LED giant screen in Dubai, with a pixel pitch of only 2.5mm and a 192° curvature.
In terms of performance, the screen can readily achieve 8k real-time rendering, and the INFiLED GX II is also optimized for some specific colour spectra that are unavailable in off-the-shelf LED panels, which can be well suited for the studio's shooting needs. In addition, the LED display supplied by INFiLED has high brightness, and the luminance can be adjusted according to the scene requirements, which is of great benefit to xR-related projects. As far as convenience is concerned, the screen formed by GX II has an adjustable angle, which allows Fractal to arrange the angle required for work independently.
"Customisation is key to the whole xR process, this technology is so new that there is no buyable for it. It's very experimental," said Olivier Gheysen, the technical director of Fractal Studio.