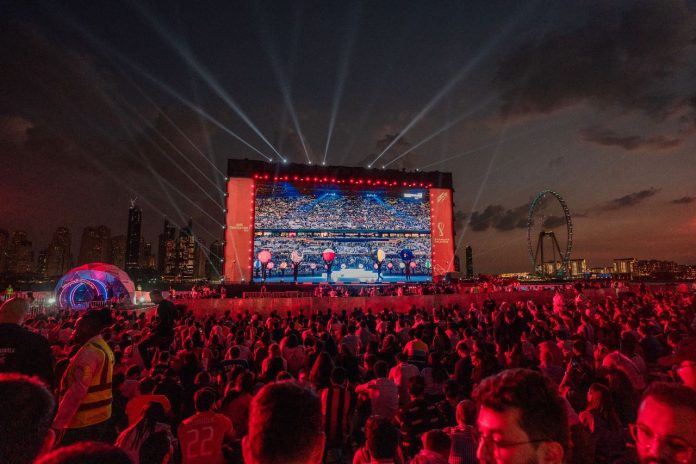 INFiLED LED displays have been installed at numerous World Cup Fan Zones around the world, ensuring hundreds of thousands of fans don't miss a second of the action.
Doha and Dubai are two of the six cities around the world that host giant Fan Zones. At Dubai's BudX FIFA fan zone, Flair Events Services installed a stunning 3.9mm 4K+ INFiLED LED display of 23m by 12.5m – the largest display in the UAE. The entire installation of the massive display took around 15 hours.
Meanwhile at 900park in Doha, Darwish Holding choose to integrate two INFiLED MV Max LED Displays with a pixel pitch of 5.9mm, streaming all live matches on the high-resolution displays, from kick-off until late at night.
The two MV max displays of 13.5m by 7.5m are the largest fixed installation screens in Qatar. Darwish Holding stated that the high quality, high brightness of 7,500 nits and IP65 protection, as well as reliable performance under hot weather, were some of the factors that fit the high requirements for the demanding installation. After the world cup final, the displays remained in place for an outdoor cinema.
Two more INFiLED displays were installed at The St. Regis hotel in Qatar. Mannai Trading integrated two outdoor INFiLED LED displays with a size of 5m by 3m and 3m by 2m and a pixel pitch of 3.9mm.
Finally, Joseph Digital Solutions installed a high-resolution 9m by 5.5m INFiLED LED display with a pixel pitch of 3.9mm at Dubai Festival City fan zone.