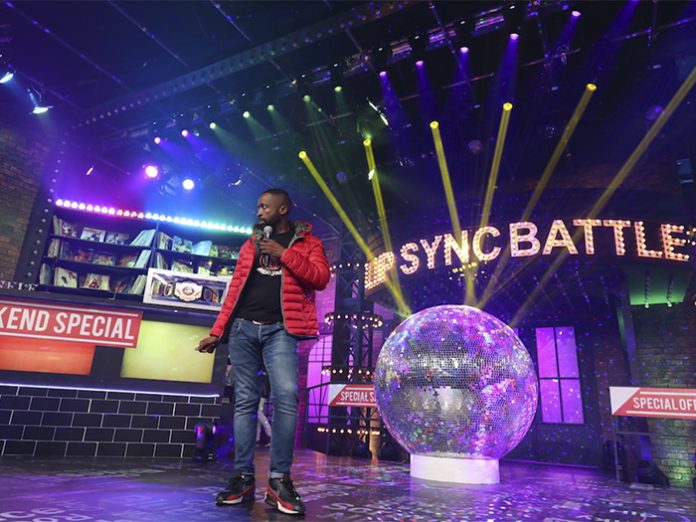 Peter Rieck of both Rieck's Lighting and joint owner of rental company Event Lighting, was selected by Red Pepper Pictures for the second year running, as lighting designer for Lip Sync Battle Africa. This exciting televised lip sync showdown, filmed at Urban Brew Studios, returned for its second season in April 2017, premiering on MTV Base, a DStv channel.
"It's a dynamic show and funky looks have to compliment the entertainment, interviews and bantering between contestants," said Rieck, who controls the Robe lighting rig with a MA dot2. While each new episode opens with a generic look Rieck holds back, only adding colour and pulse moments to the first song of the night. Then he lunges with explosive and vibrant lighting effects as the show heats up to complement the massive prop changes.
The set, an adaptation from the international format design, was done by Dewet Meyer from JDMUnlimited, for our local studios and is divided into three sections. A live commentator box, shared by the larger than life presenter personalities Pearl Thusi and Nigerian Denrele Edun, the main floor, reserved for the performances and interviews, and lastly a zone where contestants are seated to observe what they're up against.
Event Lighting were the main technical suppliers of 12 x Robe Pointes, 24 x Robe Robin Spikies, 100 x Longman LED parcans and the MDG Atmosphere. In addition, the rig incorporated Urban Brew's 10 x Robe ColorSpot 1200E ATs and 10 x Robe ColorWash 1200E ATs, all rigged from the roof. A further 24 x 2K's were used for generic lighting. Peter programmed and operated the show with a dot2 and two Node4. Some 600 light bulbs formed part of the set.
"We hung 18 Spikies on the grid with a further six positioned on the floor," Rieck explained. "They were the eye-candy and because I had so many of them, the camera could pick up all the dots. They made a decent filler and made the picture look nice. The Spikies are fast little units, and being low on power, I can run 24 on a plug if I have to.
"The dot2 worked beautifully. This console is amazing and it's made for this type of environment. It just works and is easy to understand. Johan Graham, my assistant, operated the dot2 on the last week of the show. He knows the desk very well and just flew with it."
Haze in the studio is imperative and the MDG Atmosphere is a piece of equipment that Rieck said he could not live without.