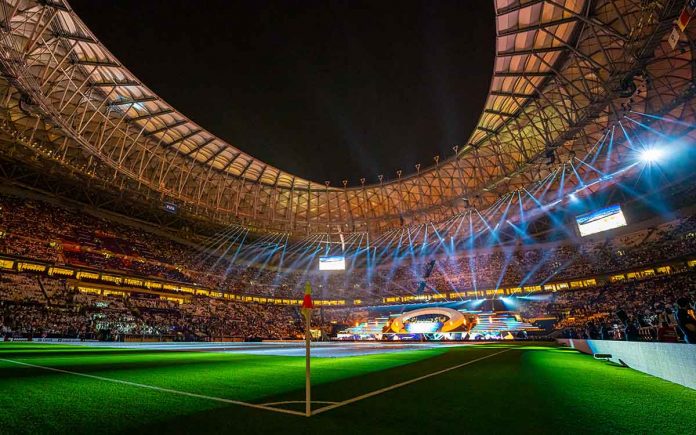 With the FIFA World Cup Qatar 2022 just around the corner, the country's centrepiece venue set to host the final of the tournament got its first outing on 9 September, as it played host to the Lusail Super Cup. Played out between Saudi Professional League winners Al Hilal SFC and Egyptian Premier League champions Zamalek SC, the match was the first to take place in the brand-new stadium and served as a dress rehearsal before the eyes of the world turn to Qatar in November. 
Ahead of the on-pitch action, Egyptian superstar, Amr Diab opened the show with a typically high-energy performance that delighted the more than 70,000-strong crowd in attendance. Live Nation Middle East appointed MediaPro International to deliver the audio, video, lighting and rigging solutions for the concert. Senior Production Manager, Nikhil Kotian explained that the hot and humid climate combined with limited working hours provided a challenge for his team. 
"There was an outdoor working restriction between 10am and 3pm during the summer as it was extremely hot, so we had to stagger equipment deliveries and crew and make sure the schedule was perfect to make the most of the time we had," he revealed. 
Due to the high-profile nature of the venue being the host stadium for the upcoming FIFA World Cup Final, the MediaPro team had to adhere to a strict timetable. "There were a lot of restrictions we had to follow, which was time consuming. However, our on-ground production team did a great job of working alongside all stakeholders to ensure that everything was done with due diligence," Kotian commented. 
The audio deployment comprised 60 L-Acoustics K2 speakers with 16 K1SB subs as the main PA to cover the first level of the grandstand throughout the stadium. The in-house audio system was used to cover the upper-level seating. L-Acoustics KARAs and X15s were used for monitors, as well as a Shure PSM1000 IEM system for Amr Diab. A DiGiCo SD5 was at FOH, along with two Yamaha CL5s on monitors. 
Due to the height of the venue, 48 CM Lodestar one-tonne hoists were rigged in the stadium using 50m-plus chains and 250 running metres of 40 by 40 Eurotruss for the lighting rig. 
Around 400 sq m of Absen 4.81 LED screens were incorporated into the scenic stage elements, with content running through two Barco E2 event processors and four disguise media servers. 
The lighting inventory included 92 Ayrton Cobras, 66 Robe MegaPointes and 44 BMFL Blades, as well as 26 Claypaky Scenius Profiles, 56 CKC Lighting 1640s and 250 RGB LED battens. A Robe RoboSpot system featuring eight BMFL LTs was also utilised. Atmospherics were provided by 16 strategically placed Smoke Factory Fan Foggers and eight Reel EFX DF-50 haze machines, while control came from two MA Lighting grandMA3s. 
Kotian was especially pleased with how his team pulled together to deliver the project exactly as promised. "There's nothing more gratifying than a client who is happy," he reflected. "Setting up the first ever show in this brand-new venue is a great feeling; the atmosphere on show day was incredible."
The rest of the MediaPro team comprised Special Projects Director, Hugh Turner; Production Manager, Abel Rodrigues; Senior Audio FOH and System Engineer, Sudhakar Madula; Senior Audio Monitor and RF Engineer, Jebastian Joseph; Lighting Crew Chief, John Pathrose; disguise Operator, Konstantine Laptev; Senior Video Engineer, Vinay Divakaran; and Health and Safety Environment Manager, Pradeesh P. 
The Lusail Super Cup is one of several recent high-profile projects for MediaPro in Qatar and, according to COO Shaam Pudaruth, there's a lot more to come. "Qatar is very busy in anticipation of the World Cup, and we are expecting many more activations to take place between now and December," he stated. "Our Doha branch is being supported by our Dubai headquarters and it is 100% ready to deliver any scale of event whatever the technical requirements." And while he wouldn't be drawn on precisely which upcoming events MediaPro is due to supply for, he revealed to TPMEA that the company "will definitely see Lusail Stadium again soon".
The COO concluded by thanking Live Nation Middle East for the opportunity, as well as the FIFA World Cup Supreme committee. "It's always a pleasure working with a team of professionals," he said. "I can't wait to see Qatar come to life with this historic event coming to the region."
Photos: MediaPro International