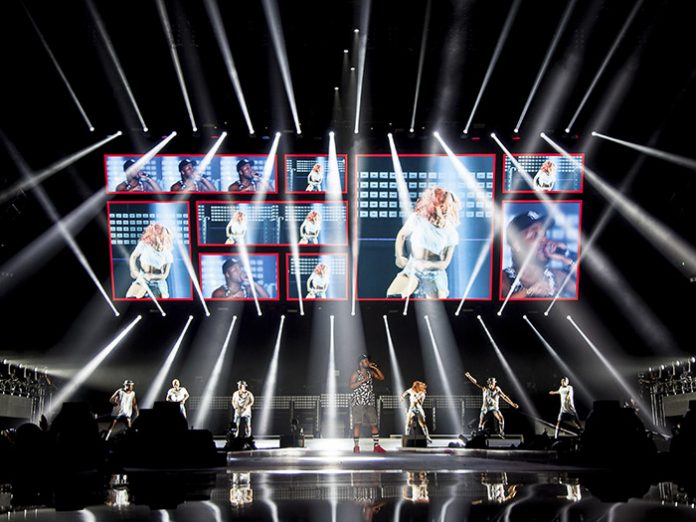 South African design company Formative was contracted by Cassper Nyovest to provide full creative direction, production and content design, show and technical production for his #fillupthedome show in Johannesburg.
The Production Design was based around his very dynamic music and the creation of special 'moments', a process that built throughout the show, revealing different elements as the music called for them. For lighting and video control, Formative relied on an MA Lighting grandMA2.
The artist's brief was to create a live show – in impact – like some of those great ones that he himself has been inspired by. The only specific request was for one massive 'hero' moment, which he left up to Formative to create.
The team, led by Formative's Creative Director Grant Orchard then directed the entire performance, right down to artist placement and positions on stage. The team familiarised themselves with Cassper's music before designing the production so that they could create lighting, video and scenic elements to match, and then worked with the various different companies in the Gearhouse South Africa Group to unite these seamlessly in the show.
Formative ran two media servers and two grandMA2 full-size consoles, with an additional grandMA2 full-size at 'dimmer beach' as well as four MA NPU (Network Processing Unit). They ran Art-Net from the media servers into the grandMA2 for pixel mapping and split timecode between all the systems for full redundancy. They also had a four-camera HD IMAG system from which they captured the feeds and integrated them into the performances via the media server.
The team set up the entire rig in MA 3D via Vectorworks on a high-spec PC, with 64Gb of Ram, a 3.3GHz Intel i7 and a nVidia GeForce Titan X, which, with some tweaks to fixture profiles, was able to deliver a solid 130fps at 1920×1080 regardless of how many fixtures were running how many effects at the same time.
This enabled them to put the entire show into the desk ahead of time, assess how the different elements worked together, move fixtures around as needed very easily and then send a final plot off to GHSA for the prep. This detailed level of preparation made work on site significantly easier for the crew.
Visually, the team avoided colours and gobos to create a stark, direct look, using only white, red and blue, with fixtures focussed almost always as narrow as possible. Where a softer look was needed, they used the prism instead of a gobo, except for the song Alive, where the situation dictated a sharp rotating gobo.
DWR Distribution CC is MA Lighting's exclusive distributor in South Africa.