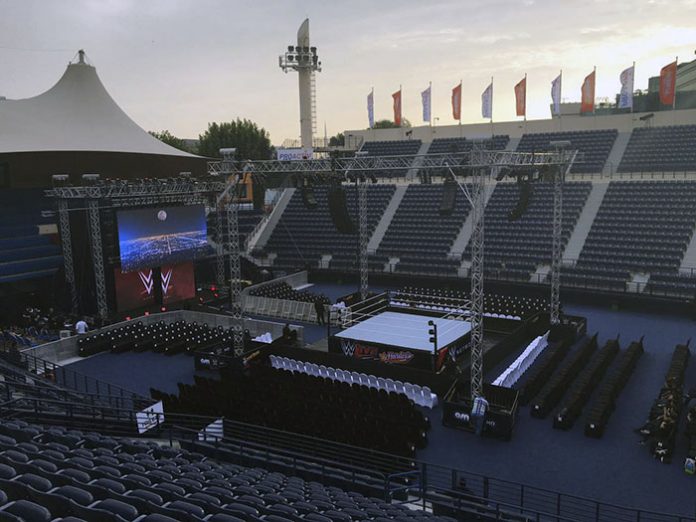 Award-winning event production specialist Maestra Group provided a complete technical solution – using resources from both its Middle East and London operations – for the recent WWE Dune Bash staged at the Dubai Duty Free Tennis Stadium in Dubai, UAE.
Maestra was asked on board by sports producers PROACTIV to provide all the rigging, sound, video, lighting, staging and draping needed for the popular two-day event, project managed for Maestra Group by managing partner of Maestra Dubai, Tom Clements.
The brief included co-ordinating the extensive soft-goods required around the site and setting up a workable backstage space using creative draping to give dressing and green rooms and technical areas. Maestra also supplied the local crew and specialised event security.
Says Clements: "Delivering a project of this size was a great challenge and one enabling us to illustrate the potential, synergy and talent of our Middle East and European teams working together to produce a high profile event for a world class brand."
Rigging & Video
Two ground supports were installed for the 5,000-capacity event, a 12 by 12 metre self-climbing trussing system above the wrestling ring at the centre of the action and another 12 metre wide by three metre deep immediately behind this, which was used to support the LED screens.
The main screen was a 7.5 metre wide by four metre high, 6mm pitch product used for IMAG relay of the ring action. Below this and slightly further back were two more three by three metre, 6mm pitch side screens with a small gap in between to allow contestants to enter / exit on their way to the ring.
Playback video content for these entranceway screens was run via a Dataton Watchout control system from Maestra.
Lighting
The company has recently invested in more Martin by Harman MAC Atomic 3000 strobes, used for the first time on this event as special effects, helping to ramp up the excitement for all the thrills and spills of the high-energy performances.
Martin by Harman MAC Aura and Clay Paky Sharpy moving lights were rigged all around the main ground support to highlight the wrestling action and provide key lighting for the IMAG cameras, with individual PARs dotted all over the place for the base washes and illumination.
Lighting was controlled via two ChamSys MQ100 consoles and Maestra also supplied one of their new 400A power distribution boxes and new Avolites ART dimmers.
Audio
A Nexo Geo 12 line array sound system was installed, picked for its aesthetics – with sight lines in mind – and power to deliver great sound all around the arena. Arrays were hung on each side of the main ground support – four in total – and focussed for clear, even coverage.
Sound was mixed using a Yamaha LS9 console complete with new Rio Rack for processing and a mix of wired and wireless radio microphones completed the sound detail.
With this and another large show for Disney being serviced simultaneously in Dubai, key crew from Maestra London joined the WWE technical crew, together with elements of kit like the sound and lighting consoles, radio microphones, and so on.
Clements underlined the international reach of Maestra Group and the value and dynamics that can be brought to the client by running a multi-site company in accessible locations.