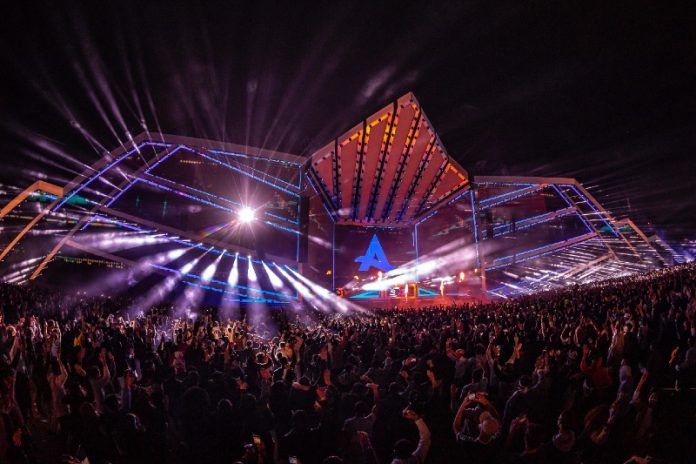 MDLBEAST has announced the headline performers for this year's SOUNDSTORM.
Featuring the likes of Bruno Mars, DJ Khaled, Post Malone and Wizkid, the lineup has expanded to include some of the world's bestselling artists from a range of genres.
Held from 1-3 December, the three-day event will see a wide array of international names including Marshmello, Carl Cox, Solomun, DJ Snake and David Guetta, as well as several Saudi women DJs such as Biirdperson, DJ Cosmicat, Dorar, Kayan, and Solskin alongside their peers, Dish Dash, Vinylmode and regional star DJ Aseel.
"Saudi Arabia's music scene has been thriving for the past two decades behind closed doors," commented Talal Albahiti, Chief Operating Officer and Head of Talent Booking at MDLBEAST. "With every edition of SOUNDSTORM, we further blow these doors wide open. It's incredibly special to see music lovers enjoy this new reality, in a safe space with the highest standards of music entertainment.
"Talent is at the heart of everything we do at MDLBEAST. As well as bringing superstar global headliners to the Kingdom, it is also essential to us that we centre our efforts on showcasing unseen talent from across the region," he added. "Feedback from the artists has been great so far. The buzz is real and is driving us to put on an even bigger and better show in 2022 for the whole world to come and enjoy."
Organisers of the festival revealed that this year's festival experience has almost doubled in size with more enhanced food & beverage offerings, open seating spaces to relax and parking on site for all General Admission ticket holders.
Also newly introduced this year, Premium and VIB ticket holders will now enjoy the festival on a connected network of elevated platforms and exclusive viewing areas at stages, on-site parking, and dedicated access at the exclusive VIB entrance. VIB Box guests enjoy the same benefits with the enhancement of private VIB Box valet and entry to their suites.
Last year's SOUNDSTORM welcomed more than 730K attendees, with 89% expressing that the music festival was "an iconic and culture defining moment", according to an independent study conducted last year analyzing MDLBEAST's impact in Saudi Arabia.
SOUNDSTORM tickets were released on 22 September in four tiers: General Admission, Premium, VIB, and VIB Box.