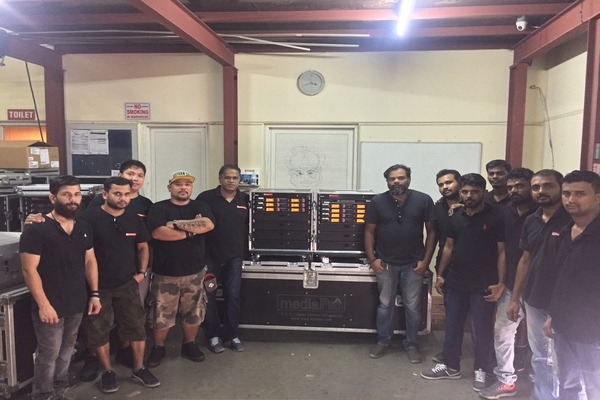 Dubai-based rental company, Mediakraft announce the addition of the Sennheiser 2000 series wireless microphones and in-ear monitors to its product portfolio.
"The decision to enhance our rental offerings with the Sennheiser solutions was entirely driven by the demands of our customers," explained Santhosh Narayanan of Mediakraft. "The events we cater to are of international scale and caliber and all things being equal, audio can be the difference between the success or failure of the entire event. While our customers are not concerned with the technical details, the two essential features they are concerned with are quality and reliability."
After receiving technical information and orientation on Sennheiser solutions at industry trade shows Infocomm MEA and Prolight + Sound Middle East, followed by product demonstrations and support from Venuetech, Mediakraft selected Sennheiser's 2000 series systems. At the heart of the new Mediakraft's setup is a rack of EM 2050 true diversity twin receivers for the SKM 2000 handheld wireless transmitters with MMD 935 capsules, and a rack of SR 2050 twin transmitters for the EK 2000 IEM wireless monitoring receivers.
Narayanan commented: "The RF signals are both strong and stable, delivering reliable high-quality connections. Artists and customers who have already used these systems have consistently lauded the crystal-clear audio quality made possible by the dynamic range and frequency response of the 935 capsules."
Using Wireless Systems Manager, the professional software solution for remotely monitoring and controlling Sennheiser wireless systems, Mediakraft execute frequency planning and spectrum scanning, and load presets and configurations for rapid on-site setup and testing. The company's clientele include Sonu Nigam, Arabic artist Cheb Khaled, and a host of Indian bands at The Great Mela concert held at the Dubai Media City Amphitheatre in 2017.