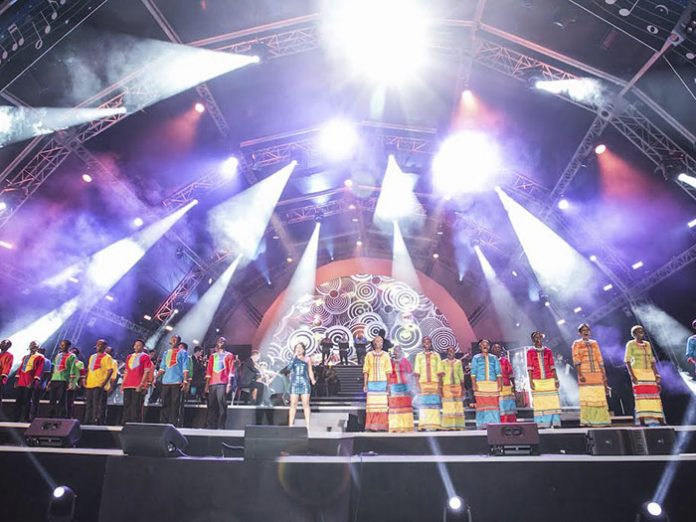 The Cape Town leg of Starlight Classics, produced by Rand Merchant Bank and production by Jam Events, was hosted at the Vergelegen Wine Estate in Somerset West on 11 and 12 March. This is one of Lighting Designer Joshua Cutts' favourite shows and he worked in close collaboration with fellow designer Christopher Bolton from Keystone. Technical elements supplied by Gearhouse Group included the main stage and venue lighting, structures, sets, rigging and power as well as the centre LED Screen.
"This is the fourth year that I have been involved in Starlight Classics as the lighting designer, and it has been pretty cool. When I took over as LD I kept things pretty much the same as they had always been, but after my first year, I changed the direction in terms of my design approach towards the show," said Cutts. He requested that all the rigging and trussing, from which the lighting had been traditionally hung, be removed. Now the lighting is hung individually off the roof structure, a massive, but worthwhile, undertaking by the Gearhouse crew led by Peter Abrahamse.
The same dome stage supplied by Gearhouse In2structures is used time and again. "There are a lot of regular things that we do that work very well," said Cutts. There is a fairly specific layout for the orchestra and the show flows from this, under the baton of the superbly talented conductor, Richard Cock. "We try to reuse similar set elements and keep the identity of Starlight the same." The main drive is to create fresh designs for new songs and to complement lighting with the screen content, provided by Stefan van der Walt from CI nation, another newbie to the Starlight Family, and Peter Heaney from 9mm Productions. While some of the songs in Cape Town are repeated from the Johannesburg show held towards the end of 2015, at least half the show was different and Joshua and Christopher had to come up with new looks for those.
"What's great about Starlight is that JAM Events keep the same team of people together every year because it's like a family," said Cutts. "We have now added Christopher Bolton to that family. Once you're in the family there's no leaving!"
Bolton agreed: "Working with the incredibly talented team that are like a big family on Starlight is such a nice experience. Jam Events always looks after us so well and this is a highlight on our calendar. This was my first Cape Town trip with the show and I can categorically state it's the most beautiful location for an event of this nature."
For Cutts, Starlight is an amazing experience: "It's the one show I get to spend a week in the beautiful setting of the Vergelegen Wine Estate with a well organized crew, who know exactly what they're doing and hardly have any questions for me, because we know how to put the show together. So I walk in, sit down as the sun is going down and programme my lights underneath the stars on a wine farm in the evenings… you can't complain about that. Add to that we have been lucky enough to have great weather over the past few years
"This is the first time the pair did multi user programming in Cape Town. They had two [MA Lighting grandMA2 Lite] consoles at front of house in complete sync with both programmers and operators."
Gearhouse supplied the technical. "I love working with the Cape Town crew because they are very honest and they will tell you straight to your face if you're talking rubbish or not, if you know what you're doing or not. They always have high energy and we have good laughs," smiled Cutts. "We fly Peter Abrahamse from Johannesburg to Cape Town every time. He is an integral part of the Starlight family. He always ensures that everything is put together in the same way in both cities. Local crew like Joey Gouws, who is a wonderful character and always makes it happen without stress or fuss, have joined the CT Starlight family. Everything just seems to work on Starlight, and that's refreshing when you work on these kind of shows. You feel as if you are swimming with the current and not against it."
For Gearhouse too, the team work is one of the highlights of this show. "This has become an important event for our students who have been supported and welcomed by the both the production team and the company over the years," said Project Manager Ryan Shepherd. "We are seeing ex first-year students return to the event as qualified crew members. Robin Petersen who joined the learnership in 2013 and worked at Starlight in Cape Town and JHB then is now the Senior Power technician on Starlight in 2016. Siphokazi George is currently in her second year specialising in lighting and Project Management and is shadowing me as PM on Starlight this year. This is a team supports student growth and offers them every opportunity. It embodies what the event is all about."
Having done a lot of the ground work in Johannesburg on the previous Starlight Cutts and Bolton had time to focus on fine tuning and adding in bits and pieces they felt would improve the show. "The only challenge I can recall was that one of our front light towers was behind some tree branches – ha ha we had to trim a branch but obviously you can't just cut a branch in a forest in Vergelegen, you have to call in the resident arbourist!," commented Bolton. "Once we had the clearance all was smooth sailing, as it always is when we work with Peter and the Gearhouse team."
It was a mixed rig for lighting. Said Cutts: "I always use the trusty Robin 600 LED Wash as my blanket to colour wash over the whole stage. I use the Robe 2500 ColorWash as my main source of floodlight because I've always found them to be complimentary to skin tones when used from the front. I used the MAC Vipers as gobo and beam work from the top. Robin Pointes to cut through all of this to give me the beams that I need. Many performance pieces, like a few of the dance items, require theatrical side lighting and I always use the REDWashes for that. Because I rig off the structure and the structure now becomes part of the set element, I use LEDForce 18s to tone the entire truss structure so that I can use it as part of my lighting effects."
Bolton concluded: "I don't want to stop learning. I am hungry for more knowledge. I feel myself grow each and every time I sit behind the console. There is no such thing as a 'perfect' show, but it won't stop me from trying to make it so! Most people in this industry are all super talented and passionate individuals with spirits that can't be broken and who each bring to the table their skill as well as they can every time. Working on Starlight is one of those, shows where you can feel that from everyone involved. This was truly a memorable experience."