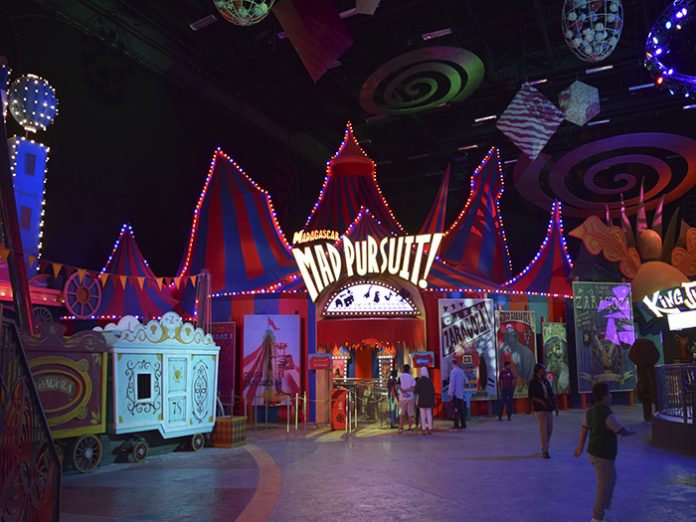 On the back of its successful installation of SkyDeck at Motiongate Dubai, J&C Joel were commissioned to design, manufacture and install a circus tent at the Hollywood-inspired theme park.
Motiongate Dubai, part of Dubai Parks and Resorts, is a $2.86 billion multi-theme park complex, which has become the city's hottest new attraction. At more than 25,000,000 sqft, it is the largest integrated theme park resort in the region. The site includes 3 theme parks and 1 water park – Motiongate Dubai, Bollywood Parks Dubai, Legoland Dubai and Legoland Water Park; connected by Riverland Dubai, a themed retail and dining destination; and Lapita Hotel, a Polynesian themed hotel part of the Marriott Autograph Collection.
The concept involved J&C Joel's manufacturing team creating a circus tent that was inspired by the animated film Madagascar, which required 6 uniquely shaped tops and included designing the steel structure for the fabric to fit around and tensioned to the desired shaping. The tent, which is the entrance to the Madagascar Mad Pursuit Ride, is based in Madagascar Land in the Dreamworks zone; one of 5 zones in Motiongate Dubai.
After being the only company with the ability to recreate the brief, J&C Joel's Creative Manufacturing team came up with a design concept for the tent and the bespoke steel frame structure to hold it up. J&C Joel quickly outlined the method and technology required to make the tent and identified that the best fabric to use would be Poly Twill because it's lightweight and has the appropriate stability, which makes it a considerably effective fabric to be used to fit around structures with the added benefit of being inherently flame retardant (IFR). The fabrics chosen were Royal Blue Poly Twill (PTW001) and Carmine Poly Twill (PTW006) to replicate the tent featured in the animated film Madagascar.
Each section of the tent was created individually and then installed on site separately. Once in place, each section was then sewn together from a cherry picker to give the overall tent shape. J&C Joel's team also worked closely with the steel frame manufacturer and installation team on site to ensure it came to the desired shape. The creation of the tent took more than 400 hours of work by J&C Joel's cutters, seamstresses and the creative manufacturing team and around 1200m of fabric was used. The total installation took 3 weeks with a dedicated team on site throughout to ensure it went smoothly and was completed to the clients' specification.
Matt Bland, Senior Creative Co-ordinator at J&C Joel, commented: "The project has been a massive undertaking for the whole team. But manufacturing the tent into sections made for a smoother installation and delivery of the tent to site. It was an extremely unique project to work on, but our experienced team worked together to ensure it went smoothly and the clients brief was achieved. It was very testing from concept to delivery, but we thrive on challenges and the result is fantastic. It's always rewarding to take a clients' idea and bring it to fruition."