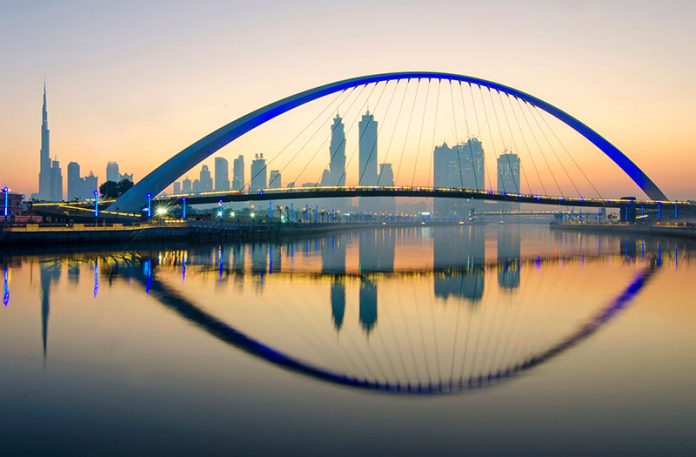 Dubai's Tolerance Bridge was recently illuminated with a dazzling light display, courtesy of Martin Professional Middle East (MPME) and Scientechnic.
Dubai Road and Transport Authority (RTA) hired Scientechnic to design a lighting solution, which would light the 690ft-long walking and cycling path over the Dubai Water Canal – the only clear span suspension bridge in the Middle East – without causing any glare at the pedestrians using the bridge.
Scientechnic consultant, Christos Tsikiloudis worked with MPME to design a captivating lighting display using 22 Martin by Harman Exterior Wash 310 LED fixtures. Tsikiloudis selected the fixtures due to their compact, energy-efficient design and uniform colour mixing, as well as the option of a discreet snoot, which integrated seamlessly with fixtures to help reduce glare. Glare was further reduced thanks to the accessory honeycomb louvre, which improved visual comfort.
The system was controlled using M-PC, an online and offline editing tool for PC, which enables users to create stunning visual displays. Tsikiloudis and his team used this tool to enhance the arched structure of the bridge, making crossing a playful and interesting experience for any pedestrian.
"Love and tolerance are bridges of communication and a universal language, binding humanity across different languages, religions and cultures," said Sheikh Mohammed bin Rashid, Vice President and Prime Minister UAE, Ruler of Dubai. "Our UAE today is a light in a dark place, setting a bright example for others."