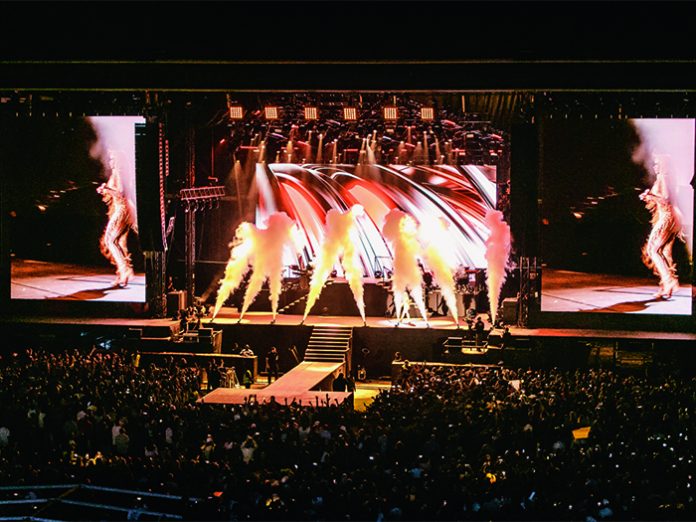 March 2016 saw the launch of Dubai's newest entertainment venue, the Autism Rocks Arena. TPMEA's Ste Durham was invited to be among the first to explore the site and experience the inaugural performance, courtesy of US megastar, Nicki Minaj.
Pulling a 20,000 capacity, purpose-built entertainment venue out of the sand dunes in a matter of months is no mean feat, but newly created events company 117Live has accomplished just that in the outskirts of Dubai with the Autism Rocks Arena. Despite the fact that the site is only a stopgap until a permanent amphitheatre is constructed, 117's parent company, Al Ahli Holding Group (AAHG), has invested $4 million (US) in making sure that the region's stellar entertainment standards are upheld.
Freshly appointed CEO of 117Live, Thomas Ovesen, explained: "Normally you wouldn't spend this amount on a temporary build but that's the level of commitment we have towards our permanent venue. We want people to have a good time here and be excited about the thought of visiting our permanent venue."
The arena is the first foray into the world of live events for AAHG, having been primarily concerned with construction and industrial work, but the project benefitted from the experience of Ovesen and 117Live Operations and Production Director, Malcolm Giles. Ovesen continued: "I'm immensely proud of the team and their abilities. We've looked at Dubai Media City Amphitheatre (DMCA) and other venues around the city and learned from each of them – fixing things that don't work and sticking by others. For example, we liked the two entrance approach at DMCA so we've split our venue down the centre, allowing us to manage half of the capacity at a time."
The Nicki Minaj gig was expected to run at around half capacity, which meant that 117Live could observe the advantages and disadvantages of the site's design in relative comfort. That said, Ovesen was keen to point out that his team were not at the Autism Rocks Arena purely to test the pros and cons.
"People are paying real money for this so we can't treat it as an experiment. If I thought I could have put on a better gig at DMCA then I would have held it there. The fact that we are hosting Nicki Minaj has worked out well, in that younger audiences tend to have less preconceptions," he added.
To maintain a level of consistency at the venue, 117Live decided that the key structural suppliers would remain the same regardless of what the event was. That means that the staging will always be provided by StageCo / All Event Services (AES), the VIP platforms and additional structures will be supplied and built by Al Laith (and stay in place for the entire 18 months) and Byrne will be responsible for power. Other than these companies, Ovesen said that the suppliers for each event will be chosen on a gig-by-gig basis.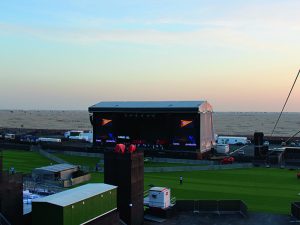 TRIPLE THREAT
Protec was charged with providing all lighting, video and rigging for the Nicki Minaj show, including LED signposting at each of the entrances to wish fans welcome on their way in and direct them to taxis and busses when the closing firework display had fired its last.
Mark Battle was present at the arena to serve as Production Manager for Protec and oversee the inaugural load-in. He commented: "It's a great venue from our point of view. There's plenty of space to work and the access for vehicles couldn't be more convenient."
A 30-year veteran in music business, Battle was originally hired by Protec in 2011 to expand its backline department, and has since adapted to the idiosyncrasies of putting on a rock 'n' roll show in the UAE. He said: "When you're on tour, you quickly get into the swing of things and setting up the gear becomes second nature. Whether you're in London, New York or Tokyo, you can still stand at the centre microphone position and everything you've brought will be in the same place.
"With it being all one-off shows here in the UAE, you don't get that practise. This means that planning and thought take up a lot more time, which isn't ideal in this heat! Luckily everybody knows what they're doing here and being the first gig in the venue has certainly made it easier because we've had a week to set up."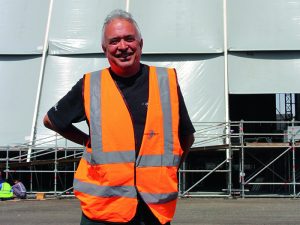 For the main stage, Protec supplied and rigged 267 panels of its Mambo nine mm LED to create an upstage wall and 130 panels of Mambo six mm LED per side that were arranged as portrait IMAG screens. The company also provided Barco ImagePRO-II and ScreenPRO-II gear, an Extron Electronics matrix switcher, and a Lightware fibre distribution system.
Battle said that one of the biggest challenges in the context of the whole event was the installation of the LED signage. Both of the 25 metre wide archways were topped with 24 LED panels per side, installed back-to-back.
He added: "We had to lift the flight cases to the working level of the entrance with a telehandler. Our crew assembled them on a one metre wide platform, with a scaffolding structure running down the middle to secure the panels to. We then had run power to each entrance and also try and weather-proof all the control needed to run them. These kept on running for 36 hours in the wind and rain without a problem!"
When it came to the main stage rig, Video Engineer for Protec, Chad Smith, explained: "We have live camera feeds going to the main screen and IMAG, mixed in with content provided by Nicki's team. The only real issue we've had is the orientation of screens, which means we've had to use two separate feeds. Hanging them wasn't easy either but it's still a relatively simple job – they're just big screens really!"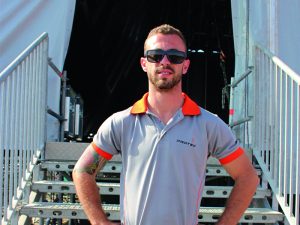 117Live specified the portrait orientation so that corporate logos could run across the top and bottom of the IMAG as borders throughout the show. Smith continued: "It's a very basic show from my point of view as we are just cutting cameras and content. There isn't much rehearsal necessary as it's all running from one server. The fact that Protec is supplying lighting and rigging is another advantage. It's always easier to work with your own team, particularly when it comes to communication and finding compromises. We had a couple of issues regarding followspot placement and the trim height of the screens but we were able to agree quickly and get straight back to work."
Protec supplied 18 Ayrton MagicPanel-Rs, 74 Philips Vari-Lite Spot VL3000's, 12 Vari-Lite Wash VL3500's, 15 Clay Paky Stormys, six Chromlech Jarag-5's, and 30 Clay Paky Show Batten 100's to be flown on the main stage truss, as well as 12 generic 8-lite molefays, four Strong Gladiator followspots and a Strong Truss Trouper followspots.
Lighting the floor was 12 Clay Paky Sharpys and 24 Clay Paky A.leda B-EYE K20's, while eight Clay Paky Mythos were used to light the IMAG screens. Protec provided four Clay Paky Sharpy Profiles to light both the entrance archways and the spot towers and 72 PixelRange PixelSmart LED PARs to light the VIP area.
The company also provided two Luminex network switchers, two MA Lighting grandMA2 full size consoles with the corresponding NPUs and 8-port nodes, and CAST WYSIWYG Perform R36 software.
Daniel Ivanovski, Lighting Designer for Protec, commented: "All of the fixtures were specified by Nicki's team, though they gave us options regarding the choice of spot.
"The specified rig was slightly wider than the 20 metres we had to squeeze under the stage roof. Plots were sent back and forth, assessed using WYSIWYG and the modifications were made. We had to make a few more slight adjustments once Nicki's crew got on site but it was nothing we couldn't handle."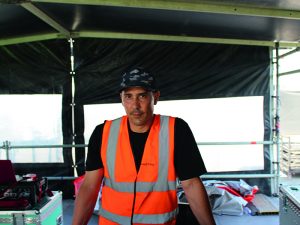 Ivanovski reiterated Smith's sentiments regarding the synergy between Protec's lighting and video contingents – an aspect that did the power of good for on-site morale, particularly given the time that the company has spent away from Dubai's rock 'n' roll scene. Battle concluded: "It's great to be doing live gigs again after a string of corporate events – I'm certainly back in my comfort zone. I also think it's positive for the guys to get back out here every once in a while and feel the excitement that comes from a live show. We're looking forward to the next one already!"
SUPER BASS
Audio Engineer for Delta Sound, Al Woods, was on hand to explain the tried and tested gear that his company were to provide for the first ever show at Autism Rocks Arena. He said: "We're using L-Acoustics as always, with 12 K1 per side as our main hangs over four K2, with K1 subwoofers flown behind and nine K2 per side as outfill. We also have an arc of 32 L-Acoustics SB28 subwoofers on the ground, split slightly in the centre because of the stage thrust, and six pairs of two V-DOSC as front fills."
This was supplemented by three SB28's per side as side subs, four SB28's as keyboard subs, and three SB18's as drum subs. The system was powered by LA8 amplifiers and monitored by LA Network Manager. Woods used a DiGiCo SD9 as the house console to mix for the support act and DJ.
He continued: "We provided a DiGiCo SD5 for Nicki's monitors and a full Sennheiser wireless system. There's 12 Sennheiser SR 2050's, 10 5000 Series 3732's for vocal microphones. We also brought all of the SD racks, an Avid Profile at FOH, two stage racks and a 60-way passive split system."
The only piece of equipment that Minaj brought to Dubai was her customised Sennheiser microphone, while the backline was all sourced locally from Melody House Musical Instruments.
FOH Engineer Dennis Thompson and Monitor Engineer Marlon Johns were responsible for keeping Minaj's substantial audio rig in check, paying particular attention to the thumping low end that is integral to her sound.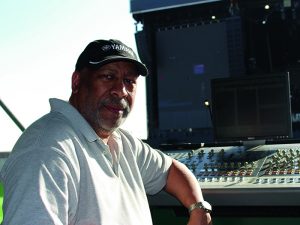 Thompson said: "It's a heavy bass sound but not the kind that makes you feel uncomfortable. It's a nice, warm feeling that still allows us to maintain the dynamics. L-Acoustics is one of my main choices worldwide and used Avid on the last tour with Nicki's last tour."
The extensive nature of Minaj's The Pinkprint Tour meant that Thompson could rely on the queues and backing tracks he had programmed months before, allowing him to work his magic on the audio quality itself. Having leant his skills to artists as legendary as Bob Marley, Thompson was more than comfortable with getting the crowd moving.
He laughed: "I came up through the ska and reggae scene in Jamaica and Nicki definitely has some of that influence in her sound. You never lose it! I like to keep the sound clean and as close to the record as possible. The audience pays a lot of money for these shows so I like to keep the sound clear and comfortable. The job is certainly made easier by the venue – there's no one to complain about the noise out here in the desert!"
Dubai's own Snap provided special effects at the Autism Rocks Arena. Director Ross Marshall commented: "Working alongside Nicki Minaj's production team, we put together a special effects package that included an array of CO2 jets and confetti blasters to enhance the touring stage design. We discussed the angles for each of the jets placed across the down stage edge and designed a dynamic fresh look for the artist. All jets were individually controlled via DMX using one of our High End Systems HedgeHog 4 lighting consoles positioned side of stage."
In the camera pit, Snap positioned two Magic FX Super Blaster XL confetti cannons, which filled the arena for the all-important final moments of the night. In addition to the special effects on stage, the company also provided a cluster of searchlights located at the VIP entrance to light up the sky above the arena.
Showforce was on-hand to assist the build. The team's primary task was to set up Minaj's room and the VIP area, as well as distributing tables, chairs and fire extinguishers in all of the main entrances to be used by security on the night of the concert. The crew laid artificial grass, which needed to be glued and nailed down to ensure it was sturdy enough for the outdoor arena.
On the night of the show, the crew were on standby to remove any unwanted items from the stage, and to be on call to clean and de-rig the show once it was over.
AES provided all staging elements for Nicki Minaj's show, including the six by four metre FOH structure, 12 by two metre stage thrust, and four by six metre B-stage. The main structure itself measured 39 metres by 15 metres, with 12 decks of Steeldeck set with handrails, at the behest of 117Live. The structure was complete with full roof and side covering, two side access/exit stairs, a rear loading dock and ramp, and front skirting with black valance cloth netting.
TECS was also on site to provide alternative entertainment in the form of a zipline – a considerably scaled down version of the structure it was involved in at XDubai (see pg. 36).
Finally, as the last note faded into the night, those of us at the now-roofless FOH structure had a perfect view of the huge firework display that lit up the sky while Minaj no doubt made her escape. It was a fitting end to the first of what will certainly be many successful shows at this promising new venue.
Photos: 117Live
www.mypinkfriday.com
www.productiontec.com
www.deltasound.ae
www.aes.ae
www.snap.ae
www.showforce.com
www.allaith.com
www.byrnerental.co
www.melodyhousemi.com
www.117live.com