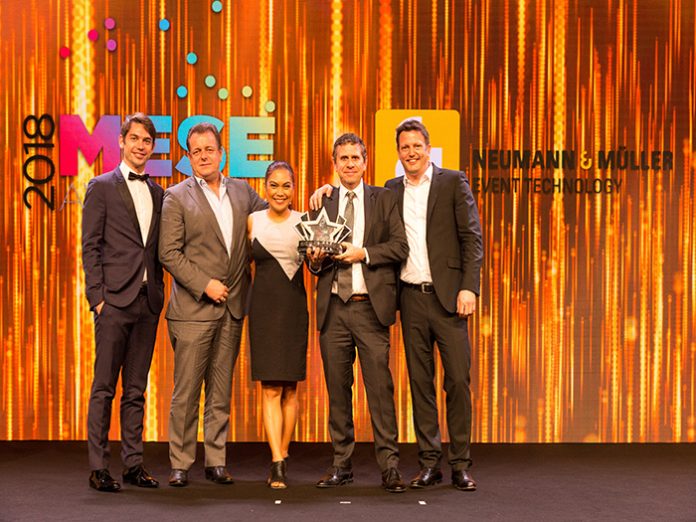 Neumann&Müller Veranstaltungstechnik has been honoured with the Middle East Special Event & Exhibition Show Best Employer of the Year award for the sector.
The prize was presented at the Middle East Special Event & Exhibition Show at the beginning of April 2018. The award honours N&M's endeavour to create a working environment throughout the enterprise that motivates employees to deliver outstanding performance and contributes to an open, cooperative atmosphere among the staff.
N&M's commitment to quality is built on the sound, broad-based and practical training of its young employees and the continued qualification of its established staff. During the recruiting process, not only professional skills but also personal aspects are taken into account to make sure that future colleagues can be perfectly integrated into the team and that they fit in with the N&M culture. One aspect of this is the managers' understanding that making transparent, comprehensible decisions and creating a climate of trust and openness are prerequisites for receiving informed feedback.
The flat hierarchies at N&M enable young employees to quickly assume responsibility for larger client projects, whereby they can also rely on experienced colleagues to stand by them so that the successful implementation of the project need never be called into question. Not least of all, there are many tangible and intangible benefits as well as well-thought-out schemes that allow employees to participate in the company's economic success, thus making N&M an attractive employer in this regard too.
Rick Wade, the manager of the branch office in Dubai, accepted the award together with the N&M team at the MESE gala. Thanking the initiators of the award, Rick Wade said: "The performance and commitment of every single one of our employees is a major factor in the success of our projects and, consequently, in the satisfaction of our clients. We are very proud of our colleagues, who put so much power and creativity into their work on a daily basis." N&M managing director Alex Ostermaier added: "The award is a great success on our way to becoming the best employer in the sector – and it underlines that our clients can be sure of receiving top performance from outstandingly qualified personnel."