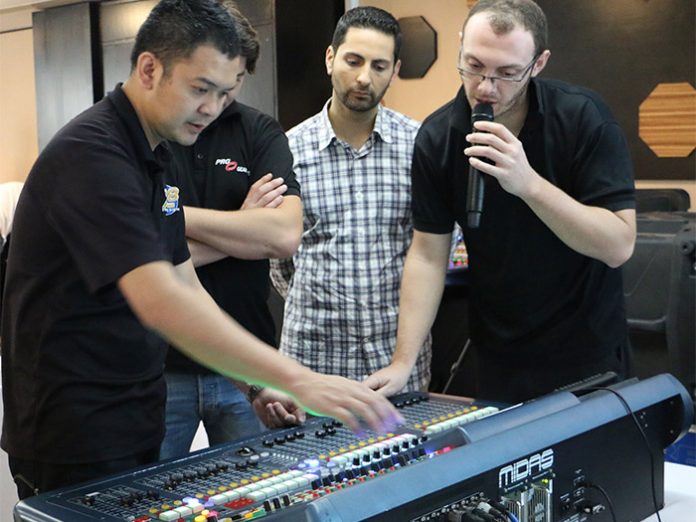 Nicolas M Kyvernitis Electronics Ent (NMK), professional AV and communication distributor in the region, has announced the fifth year of the seminars' series under the title NMK Academy.
Each year the company hosts the seminars in Dubai for AV professionals who would like to improve product knowledge and try out new technology and products from various manufacturers. For the 2016 seminar series instructors from Shure, Midas, Clear-Com, Williams Sound, Mackie, Roland and Rational Acoustics will be travelling to Dubai from different parts of the world to pass on their knowledge and experience to local audio market. The seminars will be held in Dubai during the month of May, free of charge.
This year's schedule will begin with DIS on May 1 and 2, followed by Shure on May 3 and 4, and Midas on May 8 and 9. Next, on the 10 and 11 of the month, the focus will turn to Clear-Com, followed a one-day seminar on Roland on May 12. On May 16 and 17, Williams Sound will conduct its first Middle Eastern seminar, while on May 23 Mackie will be the focus. Finally, May 29 to 31 will see an in-depth exploration of SMAART by Rational Acoustics. The sessions start at 9:00 am and finish at 5:00 pm, with lunch provided.
"The NMK Academy delivers high quality content and networking opportunities for A/V professionals," enthused NMK Marketing Executive Jana Urbanovska.
"We always look forward to welcoming past attendees and getting to know new ones. During each seminar they have a chance to network with their peers from the industry and interact with an instructor representing a brand we distribute. Moreover, Williams Sound (represented by NMK since last year) will be conducting a two-day seminar for the first time at NMK Academy 5.0."
Those interested in attending any of the seminars can register at: www.nmkelectronics.com/education