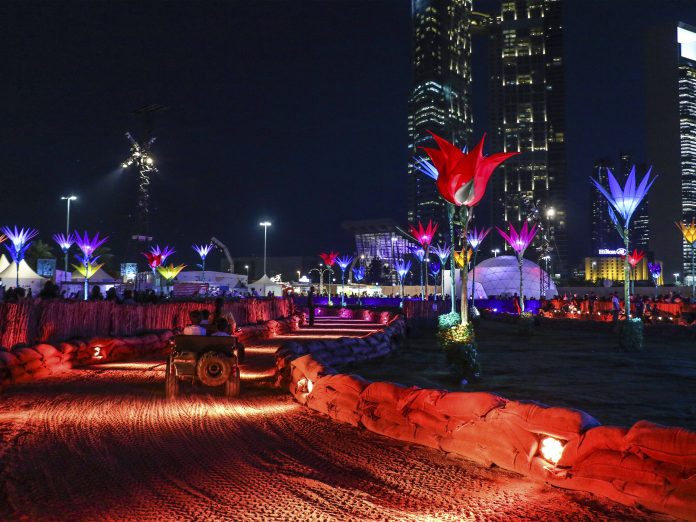 A fully integrated A/V and lighting package was provided by Production Technology (Protec) for Abu Dhabi's annual Mother of the Nation (MOTN) festival. The company careful planning and work was challenged before opening day by hurricane-force, 75 mph winds, with an accompanying torrential downpour. This could have easily delayed the event, had it not been for Protec's experienced crew and some quality, IP-rated gear, including 100 of the new, tough and resilient Nuri*Lites Hurricane LED fixtures.
"We used Nuri*Lites Hurricanes in the Happiness Zone of the festival, which also happened to be the most exposed area during the storm," said Protec's Project Manager, James Lakin. "We chose the Hurricanes because they're IP65-rated, which was necessary for the open air setup on the beach. The fixtures survived and performed beautifully, with minimal fuss on our part." Lakin added: "To overcome wet weather conditions in other zones, we had to bag all of the gear every night and then unbag everything prior to the show. This meant that lights and projectors had to be realigned each day."
"We purchased Nuri*Lites because we knew TMB would stand behind their product if we had any issues," explained Lakin. "Also, with such a short delivery timeframe (less than 10 days), we needed to go with a company that we trusted to deliver as promised. In addition to their IP rating, the Hurricane's cost/value factor influenced our decision. They are performing very well and we intend to increase our stock next season."
The new Nuri*Lites range from TMB includes seven high-performance LED fixtures that won't break the bank. RGB, RGBW, RGBAW-UV, and Variable White fixtures are available. Outdoor fixtures include the Hurricane RGBW wash and the Manhattan wash with built-in W-DMX wireless, ideal for illuminating walls and large areas indoors or out. The Daiquiri features a high-intensity, broad zoom, with a body shape designed to keep cabling out of sight. The classic Martini is a variable white LED PAR, tunable from 2800 to 6500K. When you need something bold, reach for the Highball with a six-colour system (RGBAW-UV) offering a very full colour spectrum. The Gimlet tricolor mini PAR provides a strong punch in a very small package. Finally, the Sidecar RGBW wall washer splashes vibrant colours beautifully on walls, drapes, or scenery.