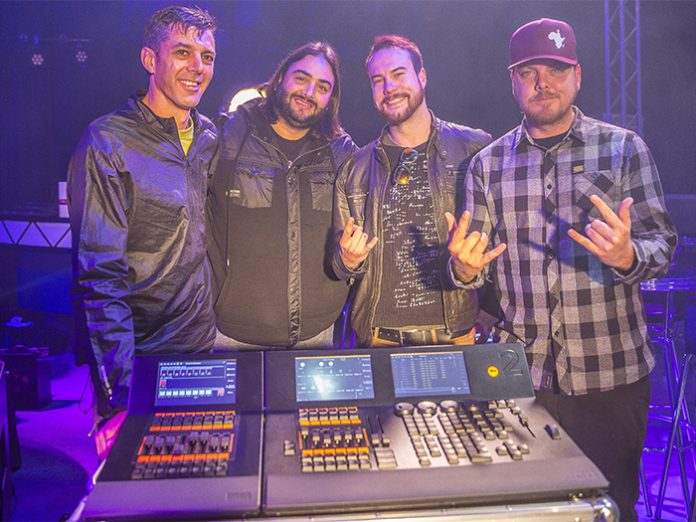 South African rock band Prime Circle have invested in a MA Lighting dot2 core and dot2 F-wing, allowing their LD Vincent van Niekerk to take full control wherever the band is playing, including international shows and tours.
The move was instigated by the band's bass player Marco Gomes who is involved in all aspects of their production, and was supplied by MA Lighting's South African distributor DWR, with whom Prime Circle has a long working relationship.
Founded in 2001, Prime Circle have toured increasingly in Europe in recent years. Their mid-2016 single Ghosts reached the top 150 in Germany's weekly airplay charts and their European popularity was boosted further by several show-stopping performances at high profile German events like Rock im Revier, Rockavaria, Rock auf dem Berg and the Hamburg Harley Days.
In South Africa the band works with a variety of rental companies depending on the set up of the concert or tour. They play a full repertoire of events, from massive arena audiences of tens of thousands to more intimate site-specific gigs and now they have the continuity and self-sufficiency of their own console.
Van Niekerk commented: "I had an initial three-hour training session with DWR's Gareth Chambers and then went straight out on a ten-day tour which included headlining the main Rhodes Theatre venue at this year's Grahamestown Festival and I had only a couple of hours to create that show using 80 moving lights."
Going forward, he will be using the dot2 to trigger their media server and run all the video visuals as well as the lightshow.
DWR's Duncan Riley said: "Prime Circle, with their work ethic and their approach to production values, are quite unique in South Africa right now. They fully understand the importance of having the right tools for the job and that being able to produce the best looking and sounding shows can boost their live performance reputation. For us and for MA, it's really awesome to be associated with a top artist like this".