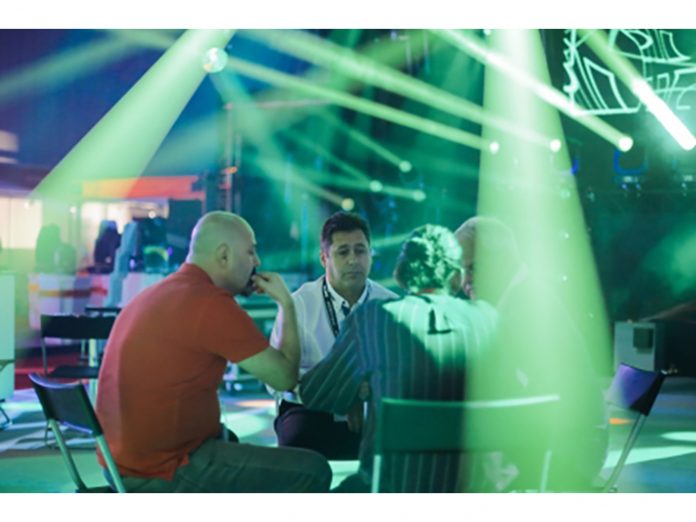 Global event technology and professional AV suppliers target Saudi's burgeoning entertainment industry during Prolight + Sound Middle East 2018, as exhibitors bet big on unlocking the huge business potential of Gulf region's largest country.
Saudi Arabia's burgeoning entertainment industry has garnered the attention of global players in the events technology and professional AV industries, with major suppliers eager to attract Saudi buyers at Dubai's upcoming Prolight + Sound Middle East exhibition.
Saudi's April 2018 ground-breaking ceremony for Qiddiya, a 334-square km theme park, comes after the February announcement that US$64 billion will be pumped into its nascent entertainment sector as part of Vision 2030, a social and economic reform programme led by the Kingdom's Crown Prince Mohammed bin Salman.
Once completed, Qiddiya, on the outskirts of Riyadh, will be more than twice as large as Disney World and is expected to be one of the largest entertainment parks in the world. It will include a Six Flags, water parks, motorsports and cultural events, while more than 1.5 million visitors are expected to stop by annually when the first phase opens in 2022.
Meanwhile, construction is already underway on an opera house in the Kingdom's capital, while the country's General Entertainment Authority said 5,000 events would be planned for 2018 alone, with US pop band Maroon 5 and the world's largest theatrical producer Cirque du Soleil among the big ticket shows.
Once virtually non-existent, Saudi's entertainment industry is in the throes of a massive transformation, and international suppliers serving the sector are ready to lay the red carpet for potential buyers at Prolight + Sound Middle East, which opens from 23-25 September 2018 at the Dubai International Convention and Exhibition Centre.
More than 40 exhibitors from 10 countries showcasing 100-plus brands will descend upon the wider region's dedicated trade fair for the events, entertainment and Pro AV industries. A collective industry buzz is building momentum as the countdown continues ahead of the annual 3-day event's 3rd edition in just under two months.
American and Netherlands-based ADJ Group is a debut exhibitor this year, and will shine the spotlight on its innovative moving heads, LED video walls, atmospherics, stage trussing and entertainment lighting accessories.
Jos Reulen, ADJ's Export Manager, said there's a big demand for its products in a booming Saudi and regional AV market: "We'll surely gain more market share rapidly because the demand from the KSA is very big," said Reulen. "Our price point and innovative quality products suit this upcoming market perfectly, and we've already had many requests and projects done by our importers in Jeddah and Riyadh."
FBT, a supplier of professional audio, installed sound products, and audio contractor solutions, is one of many returning Prolight + Sound Middle East exhibitors in 2018 and will launch in the market its HORIZON series of professional column sound arrays.
Bruno Tanoni, FBT's CEO said the Italian company has always had a very good presence in Saudi Arabia and expects this to continue: "We deal with several Saudi companies that are all project-oriented and with them we work in close collaboration on tailoring solutions to meet the projects they submit to our attention," said Tanoni.
"We also serve the traditional distribution market with a wide product-mix that allows us to be present in several places, with a predominance of mosques for sure. Saudi Arabia will have always a very high ranking in our client base."
Tanoni said FBT's aim is to work with strong Saudi partners that can prove competence in achieving as many jobs as possible, adding: "Our team in Italy is always ready to work on specific requirements since we have the skills and tools to offer. So our message is to welcome more businesses that could help Saudi's entertainment industry to be as successful as possible."
Elie Battah, General Manager at Robe Middle East, and another returning Prolight + Sound Middle East exhibitor, added: "We're very optimistic about the potential for growing business through installations and also events in Saudi. They appreciate quality products and service, so we think the opening up will be good for the whole industry."
Headquartered in the Czech Republic, Robe will back for the second straight year at Prolight + Sound Middle East 2018 with some of its key moving lights and LED fixtures used in the professional entertainment, leisure, and architectural industries.
"Robe's business in the region has steadily increased over the last three years and it's important for us to reach out to a wide variety of companies and individuals working across a broad range of sectors," added Battah. "We believe that Prolight + Sound Middle East offers dynamic opportunities for the engagement and development of this potential enterprise."
Prolight + Sound is organised by Messe Frankfurt Middle East, and returns with the Events, Technology and Entertainment Development Forum, a 3-day conference and workshop discussing key trends and strategies in executing world-class events and iconic attractions.
"The attention of international events and entertainment companies is fixed on the fast-growing Saudi and Middle East market, as the region transforms into a major international destination for events of global scale," said Ahmed Pauwels, CEO of Messe Frankfurt Middle East.
"Prolight + Sound Middle East presents the ideal platform for industry stakeholders to access and unlock the immense potential that exists in this rapidly transforming market."
Prolight + Sound Middle East 2018 also returns with the successful Dante training workshop by Audinate, where AV professionals can gather more in-depth knowledge about key design concepts and common technologies deployed in typical medium-sized Dante networks.
Prolight + Sound Middle East is the fifth instalment of the international network of Prolight + Sound events worldwide and is co-located with Light Middle East 2018, the region's dedicated exhibition, conference, and awards for lighting design and technology. More information is available at www.prolightsoundme.com