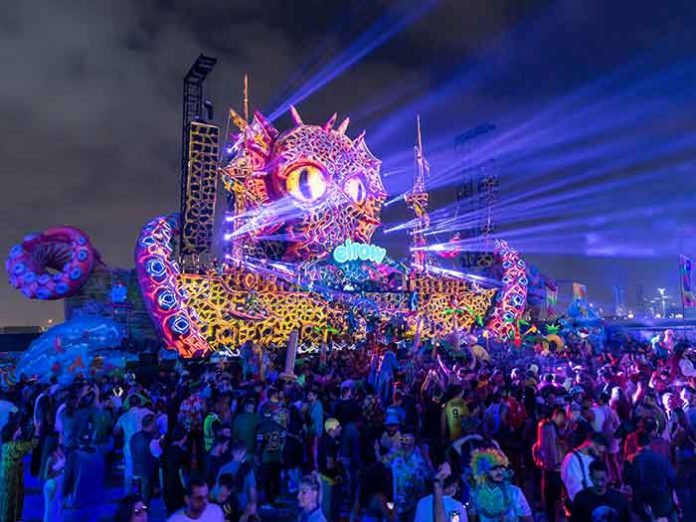 Legendary carnivalesque festival elrow XXL made its Dubai debut in mid-February, with a two-day rave that boasted epic production values. Having delivered a more boutique elrow event previously, Shiraz Baziko of The BE SO Group and elrow once again called upon Protec to provide technical support for this heavily scaled-up XXL version to visit Dubai.
Although Protec's team were commissioned to provide comprehensive technical solutions, they were asked to get involved early and consulted on the location and site overlay – something the company encourages its clients to consider. "We offer our clients full support and consultation on every aspect of their event from the earliest point. It was a pleasure to be able to collaborate on a suitable venue for elrow XXL and to help the client optimise the site overlay on top of providing comprehensive technical solutions," said Protec's General Manager, Matt Allen. "We can provide a lot of support in-house, from full technical to scenic, staging and fabrication and are happy to guide our clients from the very beginning of their event planning process to ensure they navigate any pitfalls early and smoothly, and optimise their budget of course."
The technical solutions comprised comprehensive audio, video, and lighting, as well as SFX. While video content and media servers were handled by elrow, Protec supplied three 31k Panasonic laser projectors to deliver an impressive video mapping solution across the scenic set. The company also deployed confetti cannons directly in front of the stage and at various points in the audience, which combined with elrow's inflatable props and performers to provide a multisensory, immersive experience.
With a main audience area of 60m by 40m, Protec's HOD of Audio, Evgenii Shparenkov, opted for what he described as "a very wide cardioid sub arch to cover the audience while eliminating disturbance at the DJ booth". The audio setup comprised an in-house L-Acoustics PA featuring 12 K2s and four K1-SBs per side as main hangs, 12 Karasas front fills, and 30 SB28 for subs. Hangs of eight K2s were selected as outfills and fill for the VIP section, while four 8XTs provided coverage for the bars.
"We did not need to throw extremely far, so we went for the ideal solution to fit in the scenic design and cover the desired area with a decent amount of low mid, which is important for this type of music," Shparenkov explained.
Protec's audio department also utilised it new L-Acoustics P1 AVB processor and measurement platform to ensure each hang was aligned correctly. "We used AVB distribution for all the PA signals across LA12x with the help of Luminex GigaCore switches with added analogue fall-back to prevent any dropouts from the digital network and make smooth transitions to spare lines," said Shparenkov, who operated the show from FOH on both nights using a DiGiCo S21.
"The main challenge on this event was a tight load-in schedule," he reflected. "As the PA towers were built first and are positioned inside the stage area there is all the scenic set of the elrow ship to consider. It was important that the PA did not get in the way of the set build and went up promptly. We were involved early and had a lot of time to visualise the solutions. We worked closely with the elrow team to be sure that we met all necessary heights, coverage for the audience and dimensions for the PA."
The key element of the lighting brief was to support the video projection by avoiding lighting the video mapping area, according to Protec's lighting designer, Gintas Valuntonis, who executed the lighting design and operation for elrow XXL.
The solution included 18 Claypaky Xtylos, 20 Super Sharpys, 10 Mythos 2s, 12 Robe Spikies, four SGM Q-7s, 14 P-5s, 32 SGM P-10s, and 32 Nurilites LED PAR RGBs, controlled by an MA Lighting grandMA3 Full Size console, with a grandMA3 light as a backup.
"We did not have any challenges; we were incredibly happy with the show and the feedback was extremely positive," said Valuntonis of the project. "The production was stunning, the video mapping was awesome, and the music was great. I had the benefit of using Protec's previsualisation studio to test my lighting design, which allowed me to make any adjustments before going on site. Being involved early in the planning made an enormous difference in how efficiently the whole event went."
Neil McCarthy, Protec's Project Manager for elrow XXL, praised the team and the event. "elrowXXL was a visually stunning, and fun event to be involved in," he reflected. "Everything went smoothly and the event was run very professionally by our client. We were happy to be trusted from the beginning and involved in the planning process including the site overlay. Our close contact with Jesus from elrow meant the planning was accurate and there were no surprises on site. Our team delivered exactly what they had planned, and promptly. Spirits were high as it was an enjoyable show to deliver. We look forward to working with the elrow team and Shiraz again on future projects."
Shiraz Baziko of the BE SO Group concluded by praising the efforts of the Protec team. "Matt, Neil and the team delivered as promised – they were creative, knowledgeable, and professional on site and at every step of the planning and delivery process," he commented. "Their guidance on the venue, the layout and their invaluable insights made this inaugural event run smoothly. They delivered exactly what we had hoped for. The technical production was excellent, and the atmosphere was electric! Trusted suppliers like Protec make an enormous difference when planning a new event in this region, I would recommend them with confidence and look forward to planning our next event together."
Photos: Protec