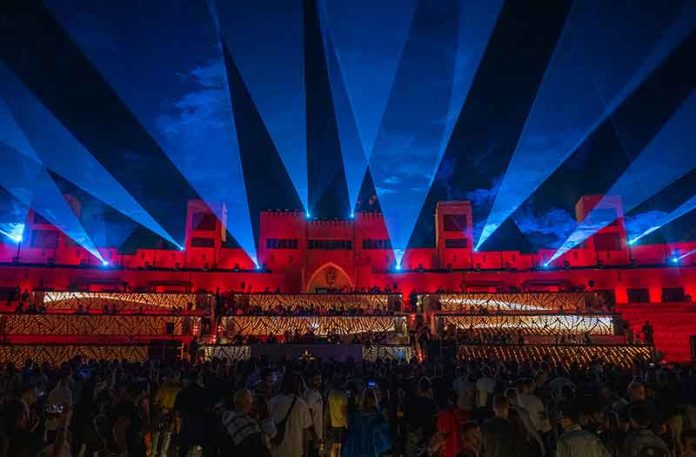 An iconic new Tomorrowland destination set among the rolling dunes on the outskirts of Dubai officially opened its doors with a grand opening party, with Protec – which has delivered multiple Tomorrowland experiences in the UAE – once again entrusted by its client, Envie Events, to supply a turnkey solution.
Project Manager Pieter Smuts led a team of 25 crew members on the three-day load-in. "As this was a completely new venue which was already up and running with guests, we had to plan carefully to ensure minimal disruption," he explained. "This included working on a flexible timeline, minimising noise disturbance and working very discreetly and tidily. We created as much as possible in our scenic warehouse offsite, which helped minimise disturbances."
Smuts recalled the unusual placement of the VIP bays, which were located behind the DJ booth. "That was something different and had to be accounted for with the audio design," he said. "We also had Absen PL series LED panels placed in custom balustrades in front of these VIP bays, which was unique and an interesting element. As with all new venues, establishing access to certain areas like the rooftops could have been a challenge, but with the help of our rigging department's expertise, we overcame that quickly. Our guys showed up looking neat, and in uniform, which helped maintain our professional appearance and that of the venue in front of guests."
The brief included a heavy lighting requirement with the lighting design provided by Maarten Pitteurs of Tomorrowland. Protec provided 32 Claypaky Sharpy Plus, 22 A.leda B-EYE K10, 16 A.leda B-EYE K20, 48 Robe Pointe, 32 SGM Q-7, and 76 P-2 fixtures, as well as four FQ100 fog generators and two Stadium Hazers. Two MA Lighting grandMA2 Full Size consoles were provided for control, while networking solutions included Luminex GigaCore 16FRO, Neutrik Fibre Optic, and MA Lighting network.
Miguel Paris, HOD, praised his lighting team. "They were amazing in how they worked together as a team, quickly and cleanly, overcoming short lead times and last-minute design changes," he commented. "You can see the benefit of their long experience working together. The feedback was all very positive. The LD was very happy with the outcome of the setup and the show. His design looked great."
According to Protec's new HOD of Audio, Evgenii Shparenkov, particular attention needed to be paid to the bass formation. "We needed to provide even coverage for the audience in front of the DJ, provide additional coverage for the VIP areas (backfills) for each of the eight sectors and eliminate low-frequency SPL from the PA subwoofers in the DJ booth as they were 1m apart," he explained.
"We could not raise the PA from the ground and very low sight levels of the PA were required and had to be considered in the design. For dance music, the foundation is a deep and pronounced low frequency, so one of the main challenges was to design the sub-array in such a limited space."
Shparenkov chose a cardioid arc of 14 L-Acoustics SB28 as a solution, deploying a K2 system in four ground stacks, each with three speakers. Two main ground stacks were placed left and right of the DJ booth on top of three SB28s. "Outfills were placed further left and right and elevated a bit higher back in the amphitheatre," he added. "To fill the gap between the main LR, we placed four Kara on each pair of SB28 in reversed stereo. For the VIP coverage, we used 12 coaxial speakers, each individually time aligned to match backfire from the mains. For the DJ booth monitors, we used two SB18 behind the DJ and two 115XT HiQ as stereo."
Pieter Smuts commended the crew, the client, and the venue. "We delivered this job in a very short turnaround time thanks to our large inventory and the responsiveness of our team. Once again, our crew were very flexible and always willing to go the extra mile. Terra Solis really is an oasis in the desert and it was a very pleasant environment to work in. The client was very hands-on, and any changes could be made quickly. We were supported 100%. The show was a blazing success."
Barry Pavic, Founder of Envie Events, echoed Smuts' sentiments. "For high-profile events, such as the launch of a Tomorrowland destination like Terra Solis, it is important to place your trust in only the most reliable, experienced suppliers," he stated. "First impressions matter, so the opening night was a launch event that had to deliver at a global level. Our experience with Protec has always been consistently excellent. Their accommodating, flexible team and large inventory allowed us to adapt the design right up to the end. Experienced partners like Protec make planning events like this much easier, especially with condensed lead times. They were always at the end of the phone and supported us fully. Each member of the team went above and beyond to make this event the resounding success it was."
Photos: Protec