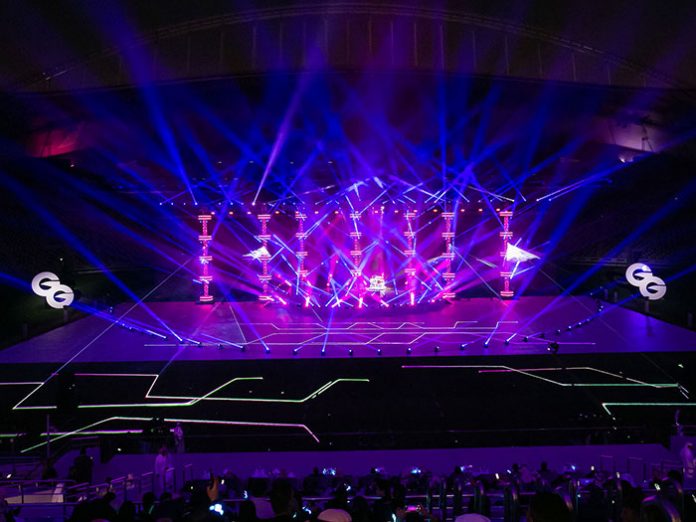 The opening ceremony for the first eSports WEGA Global Games took place in Qatar on 16 January. Hosted by Aspire Zone Foundation and organised by Truxtun Capital, the event saw more than 14,000 fans descend on Doha's Khalifa International Stadium.
Doha-based event company The Planners LLC tasked MediaPro International with supplying audio, lighting, video and rigging, while an all-Belgian technical design and imagineering team was also brought in for the event, with The Cintamani Stone: ArchitectofEMOTION (TCS-AOE), Painting with Light (PWL) and Trimex coming together to deliver the project.
Having worked for several years with TCS's Artistic Director Steven Martin, as well as Ludo Vanstreels from Trimex, PWL's Creative Director Luc Peumans was delighted to bring the team back together – especially since the project required such a quick turnaround to get from conception to delivery in just four weeks.
Peumans' eye-catching lighting scheme was based around seven 16m-high towers – three upstage and four downstage to the sides to provide a sense of depth and a basic structural framework around the 80m-wide oval-shaped performance space. Due to the positioning of the stage in one section down the long end of the stadium, the whole lighting rig – and all other technical elements – had to be ground supported.
Upstage was the impressive 1,000 sq m, 12m-high back video wall. The stage surface was mapped for projections and the holographic images were beamed onto 30m by 12m special holo-scrims – a trending aesthetic in the world of eSport tournament opening ceremonies.
Peumans chose 100 Robe MegaPointes as his main effects lighting fixtures. These were distributed on different levels of all seven towers, as well as along the top edge of the rear video wall and scattered on the stage deck, giving three distinctive layers of optical attack.
The MegaPointes were used to create a series of special looks to compliment the holographic characters. "They are a great fixture for this, offering multiple options for wild, crazy and off-beat effects that were perfect for this show," Peumans commented.
Elsewhere, there were 60 Robe Spiider LED wash beams, 36 Cyclops LED washes, 50 Claypaky Mythos' and 42 Claypaky Scenius Unicos, which were used to highlight cast positions from the sides and for illuminating specific parts of the projection areas. Much of the general lighting came from the sides as front lighting was minimal – just four fixtures – in order to avoid spilling onto the holo-scrims. MA Lighting grandMA2s were used for control.
With around 500 light sources used to fill the stadium, each fixture was used in a truly multifunctional context. Peumans praised his associate LD, Raphael Demonthy, and Lighting Programmer, Sebastian Huwig, who were pivotal to the success of the project.
The video elements were assembled, coordinated and controlled by Jo Pauly from Visual Solutions – another highly regarded practitioner with whom Peumans and PWL have a great working. The video content was created by Pix & Real and Prismax.
Music was compiled by Tino Plettinck with the support of Universal Production Music. A team of about 40 performing talents and five show runners were flown in with the TCS team.
"Having all these resources to hand plus everyone's talent, experience, vision and passion onboard helped enormously in pulling a complex and high-profile show together under a lot of pressure," commented Peumans.
"Many said it could not be done in such a short time and, yet again, our team nailed it," Martin added. "You need three things to achieve this with such a short notice: a good idea and vision to start with, but most importantly the right talented and skilled people around you. The end client's reaction was amazement with how we pulled everything together with such detail."
Photos: Courtesy The Cintamani Stone: ArchitectofEMOTION (TCS-AOE)