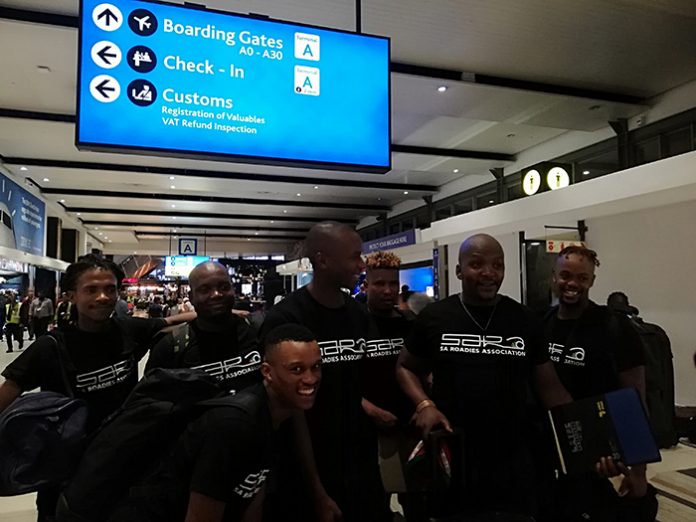 In yet another effort driven by the country's leading live event technical and production training organization the South African Roadies Association (SARA), six SARA members: Mofenyi Mofamadi (25) from Dlamini 1, Soweto, Sylvarno Sauls (25) from Westbury, Johannesburg, Moeketi Tshabalala (27) from Katlehong, Ekurhuleni, Seiso Sithole (28) from Soshanguve, Pretoria, Mpumelelo Dakile (33) from Orlando West Extension, Soweto, Blondie Sello (34) Mangaung, Free State and Sikhumbuzo Sibanda (35) from Emdeni, Soweto will depart tonight for the United States for a 10 months tour with the Universoul Circus.
The UniverSoul Circus is a single ring circus, established in 1994 by Cedric Walker, an African American man who had a vision of creating a circus with a large percentage of people of colour performing. He began searching for people from all around the world with incredible talents. The circus currently has performers from at least 24 different countries around the world. It is headquartered in Atlanta, Georgia.
The UniverSoul Circus base in Atlanta, Georgia, is a world-class live entertainment attraction that has captured the hearts and imaginations of a new generation of families. Celebrating its 26th Anniversary, UniverSoul Circus has come full circle in its influence in the international entertainment marketplace – garnering the distinction of being known as a one-of-a-kind, must see attraction.
The first season of operations brought formidable debt upon the organization. By 1997 the circus tour grew to 10 cities, 19 cities in 1999, 31 cities in 2000, and 32 cities in 2005. A tour of South Africa, the first international destination, was completed in 2001.
SARA and the UniverSoul Circus first began working together in 2002 and a fruitful relationship endured for the next 7 years that saw 121 of people receive ten months of on-the-job paid for training experience in the USA per year, as part of the UniverSoul Circus "technical and production" crew. Lighting, Sound, staging, Audio Visual, Video- "Technicians" and production are some of the skills which they gained. "life-changing for those who make the grade," said SARA
South African technical and production skills, as shown by the exportability of the SARA members' skills, are "skills of the future" and one of the skill sectors offering sustainable employment across the world, notwithstanding the region and the continent, to young people.