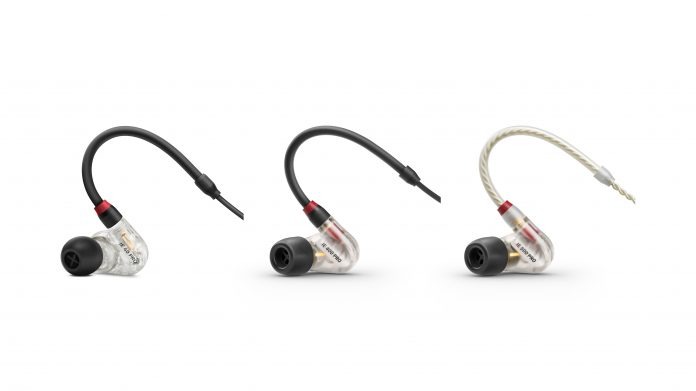 Following their unveiling at CABSAT earlier this month, Sennheiser today announced the availability of the IE 400 PRO and IE 500 PRO in the Middle East. These latest members of Sennheiser's family of professional in-ear monitors offer natural, high-resolution sound, a secure and comfortable fit that comes close to custom-moulded in-ears and a break-proof, patent-pending cable connection.
"For the IE 400 PRO and IE 500 PRO, we have reinvented the single dynamic driver principle. Other in-ears in the same price range work on the balanced armature principle, which we find to be inferior to a wideband dynamic driver," explained Jannik Schentek, product manager at Sennheiser. "Balanced armature earphones – a technology borrowed from hearing aids where small packages are crucial – require multiple drivers to reproduce the frequency range, and this may lead to cross-over effects and phase differences between the individual drivers. The IE 400 PRO and the IE 500 PRO, on the other hand, use a single high-performance dynamic driver that covers the entire frequency range with ease, resulting in a distortion-free, detailed and accurate sound reproduction."
This single-driver technology, termed TrueResponse, ensures a completely natural, clear and spacious sound stage with a total harmonic distortion (THD) as low as under 0.08% at 1 kHz and 94 dB. When the sound is so precise and detailed, the acoustical stress for the wearer is reduced, and they discover that they can set their monitors to a lower level. Even so, the sound still has punch – even in the loudest of surroundings. This enables musicians to critically monitor their sound and to fully concentrate on their performance.
With the driver measuring only 7 mm in diameter, the IE 400 PRO and IE 500 PRO feature a comfortable ear mould, which is ergonomically shaped, has a low profile and is extremely lightweight.
The in-ears come with silicone ear adapters in various sizes and a pair of special ear tips made from memory foam, which expand to perfectly fit the ear canal. In addition, the earphones' 'sound tunnel' has two rest positions to attach the ear tips too, to accommodate the variances in length of human ear canals.
This results in a secure and comfortable fit that comes very close to custom-made ear moulds. Moreover, the perfect sealing provides powerful bass reproduction and a reduction in ambient sound by up to 26 dB, protecting the wearer against excessive stage sound.
Like every in-ear in this professional series, the IE 400 PRO and IE 500 PRO are fitted with a break-proof inner cable duct (patent pending), that has the cable's sturdy anti-kink sleeve sit directly on the ear mould, providing a long-lasting solution for the rigours of stage use. For easy distinction, the right ear mould has a red ring at its cable connection.
Both new models have a detachable cable with a reinforced ear hook. While the IE 400 PRO comes with a black, straight cable, the IE 500 PROs are fitted with a clear, twisted-pair cable which provides optimised resistance to structure-borne noise.
Commenting on the difference in sound between the two models, Jannik Schentek said, "The biggest difference is in the mids, really. Between 1 and 2.5 kHz, the IE 500 PRO has more presence and sounds much more direct, thus opening up a very wide and deep sound stage that allows artists to more easily localise themselves in the mix. Furthermore, it has a wider frequency response and a few extra dBs of sound pressure level – which can be crucial on loud stages."
Both models are available in a clear and smoky black version. They come complete with a handy transport case, memory foam and silicone ear tips, a cleaning tool, and a 3.5 mm (1/8") to 6.3 mm (1/4") jack adaptor.