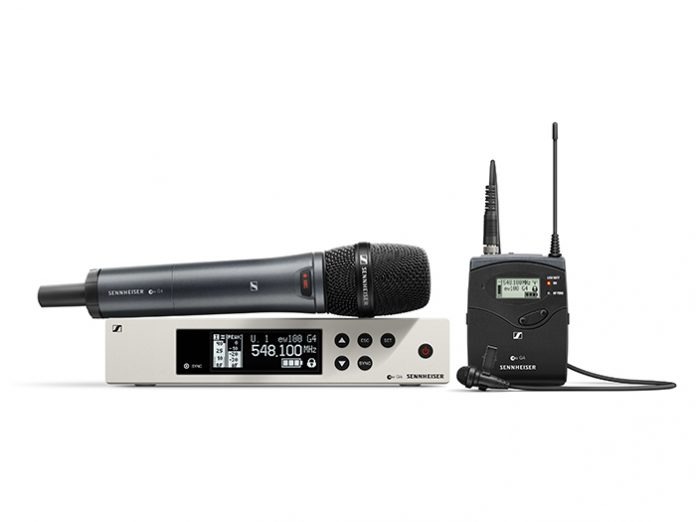 Building on its wireless series, Sennheiser has launched the evolution G4, the 4th generation of its product family.
Upgrades to the G4 line-up are user-inspired features such as multichannel capabilities, single click scanning and set up, frequency agility, as well as longer range, battery life and reliability.
With 4 product series in the range – the 100, 300, 500, and IEM series – evolution G4 is ideally suited to meet the needs of the Live Performance, Broadcast and Film, as well as the Business and Education market segments.
"Whether it is in the corporate world, live entertainment, theatre or broadcast, the evolution wireless series has long been the professional's choice for the widest range of applications. We have set the precedent of introducing an ever-evolving feature set with each iteration and ew G4 is no exception. With many user-driven improvements and features, it is the culmination of 60 years of expertise in analogue wireless design," said Mig Cardamone, Director of Sales and Marketing at Sennheiser Middle East.
The evolution wireless G4 maintains the pricing of the preceding generation and its compatibility with all previous generations of evolution wireless safeguards customers' investments. The evolution wireless G4's 100, 500 and IEM Series offer flexibility, versatility and easy setup, making them the ideal solution for live stage, house of worship and theatre applications.
Sennheiser designed its 100P Series around the needs of mobile journalism, ENG and documentary film makers while introducing the 500P series for professional film. The 100P G4 series includes the ew 135-p G4 Portable Handheld Mic Set, two Portable Lavalier Mic Sets, the 112-p G4 (omni) and the ew 122-p G4 (cardioid), as well as the ENG Combo Set, which combines the camera receiver with a plug-on transmitter and a bodypack transmitter with omni ME 2-II clip-on.
Complementing the G4 100P sets are brand-new 500P series PRO Sets for ENG work and general filming needs. Systems include the ew 512-p G4 Pro Portable Lavalier Mic Set, the ew 500 BOOM G4 Pro Portable Boom Set and finally the Pro Film Combo Set, which includes both transmitter types, the camera receiver and accessories.
Targeting users in corporate, hospitality and education settings, the ew G4 300 series comprises a Vocal Set with an e 865 microphone head, a Lavalier Set with the ME 2-II clip on, and a new Headmic Set which includes the SL HEADMIC 1, ideal for speeches and lectures. Also new in the series are the Base Sets, which provide a cost efficient way to update or expand existing evolution wireless systems.
Sennheiser has also announced of a new version of Sennheiser Control Cockpit. This software enables users to centrally and remotely control their wireless systems in real-time via a web browser on their smartphones, tablets or laptops. Sennheiser Cockpit Control will not only work with SpeechLine Digital Wireless and the new G4 systems but also with Digital 6000.