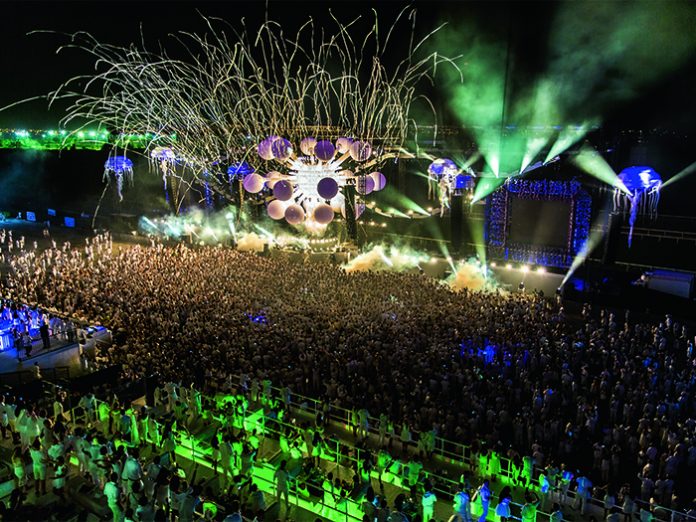 After staging events for 15 years, across 30 countries, to over two million people, Sensation has become a worldwide phenomenon. United in white, thousands descended on Meydan racecourse to witness the incredible production – TPMEA's Ste Durham was among them.
Since its inaugural outing on 5 July 2008 in Sensation's native Amsterdam, the aquatically themed Ocean of White show has toured five continents, recently washing up at Dubai's striking Meydan Racecourse. The set design included gigantic white jellyfish, towering jets of water, and a fully-stocked arsenal of special effects.
Alongside showcasing the quite frankly eye-watering production, Sensation actively nurtures a sense of harmony by ensuring that all of those in attendance follow the white-only dress code to the letter. This ethos runs not only during the course of the evening, but throughout the planning stage as well. Barry Pavic, Managing Director of Envie Events, explained: "I always say Sensation is an experience. It's not about the DJs alone. It's everybody dressed in white, the unity, the show, the pyrotechnics, the acrobats, the visuals."
Regardless of where Sensation locates to, the shows are prepared at its headquarters in Amsterdam. New incarnations are created each year and, as in the case of Ocean of White, even rebooted and taken to new locations. It is then a matter of logistics to see which venues are fit for purpose and what level of equipment and know-how are available locally.
Pavic continued: "I am the overall coordinator of the production process and I manage the site together with the suppliers. I oversee a 12-day load-in and load-out schedule involving 250 crewmembers, as well as making sure that all work permits and licenses are in place. Some of the kit is from Amsterdam but most of the production is sourced locally."
After cutting his teeth on the festival and nightclub scenes in Europe and the US, Pavic has spent the past four years in the UAE. Despite this relatively short tenure, he had sensed the potential in the region years before.
"I first came to Dubai in 2002 and fell in love with it, though I didn't think it was ready at that point. Year-on-year since, I came back to check – finally deciding to make the move and build the business in 2011, starting with Sensation. I didn't feel that we could grow any further in Belgium – and I'm also a fan of good weather! Dubai has always positively influenced me, as people here have a drive that has been lacking in Europe of late. I needed a new challenge and I still had the energy and motivation at the age of 37. I believe at that point you either make the jump or stay where you are forever."
While an event like Sensation warrants an inordinate amount of technical coordination, the team conducted 2.5 years of planning to minimise the amount of kit that had to be flown from Europe. This included one-of-a-kind scenic elements such as the giant centrepiece that were shipped directly from Amsterdam.
For the second year in a row, Sensation called in ShowTex – this time to take care of the giant floating jellyfish onstage. The structure was made of RP Fusion PVC on a PolyStretch P8 spiral and was covered in lightweight Organza sheer fabric to create the desired look.
ShowTex also printed all information banners, eight metre high light towers and emergency exit signs on PVC, and created the MasterCard photo booth out of printed Universal 250 BB Blackout fabric. No less than 300 square metres of printed fabric made sure all visitors were well informed during the event!
Pavic continued: "There are companies that can provide most of the things we need but the trick is putting so much effort into pre-production. For Amsterdam it's a challenge because the rest of the locations that Sensation visits around the globe are indoor venues. With Meydan being outdoor we had to redesign the production – this is an interesting creative process where all the producers get involved. We've now set up a good crew that communicates internationally on a frequent basis to make these things happen."
Artists bring containers of props and tailor-made decoration pieces that cannot be recreated, as do Sensation, while a great deal of the rest is locally-sourced. This included lighting and audio from PRG Gearhouse and a great deal of structural work from Al Laith – two companies that Pavic calls, alongside Envie, "the main pillars of the production".
PRG Gearhouse's relationship with Envie began when it brought Sensation to Dubai for the first time in 2014, which was Sensation's first ever outdoor show. The company provided rigging, audio and lighting kit and crew for the main show at Meydan, plus additional audio and lighting systems around the site including all VIP areas.
The PA system was all L-Acoustics, as specified by the Sensation audio production team, NoizBoyz. It was made up of six main hangs using 56 V-Dosc's, 32 K2's, 40 Dv-Dosc's, and 56 SB28's.
Phil Smith, Senior Project Manager for PRG Gearhouse, commented: "Audio for the event had its challenges, as the stage directly faces the main glass-fronted Meydan Grandstand. As a result, the PA had to be designed to take reflection into consideration while still maintaining the required level for this type of event."
This powerful audio setup was accentuated by a titanic lighting rig that consisted of 101 Philips Vari-Lite VL 3000 spots, 32 Clay Paky A.leda B-EYE K20's, 62 Martin Professional Atomic strobe with colour scrollers, 51 Martin Professional Rush LED PARs, 88 James Thomas Engineering  Pixelline 1044 LED battens, and 96 2 lite molefays. The fixtures were controlled by three High End Systems Hog 4 desks.
The company also provided over 400 metres of truss in various sizes and 90 CM Lodestar motors.
BIG IDEAS
Event construction giant Al Laith provided a significant amount of both kit and crew for Sensation, a feat that the company's Head of Event Services, Warren Barlow, believes it is perfectly-equipped for. He commented: "Our products are ideal for large-scale productions and Sensation is definitely that! When your stage is 25 metres high and 120 meres wide it requires a bit more than an aluminium ground support – that's when we step in and do what we do best. I always think it ties into our motto of 'building big ideas'."
In addition to the ground support structure, Al Laith supplied and constructed five large VIP platforms on top of Meydan's grandstand – essentially creating vast decking areas for the guests on top of the where the seating would usually be. The company also provided the bars, the branding on the archways and bars themselves, toilets, and staff cabins. Barlow said: "Basically we will build any of the necessary areas that don't exist already. Although Meydan is a modern venue, its not necessarily built for an event like Sensation with such a huge concentration of people in one place."
Aside from normal water requirements for things like the toilets, Al Laith supplied almost 20,000 gallons of additional water to be used during the show for the downstage fountains. Barlow explained: "We provided that and, quite importantly, disposed of it after the event. When you are standing next to an expensive racing track, simply pulling the plug on that amount of water isn't an option!"
He added: "We have worked closely with Envie and Sensation and we firmly believe that they have a decent set of products and good plans for the future."
Even for somewhere as accustomed to live events as Dubai, Sensation is a huge production. Regardless of this, Pavic spoke highly of the local crew that handled the persistent demands. "The crew were very well-trained. It is not very often that we have such a big show here but they were great."
Aside from the 'pillars' of the production, Pavic took the time to mention a long time acquaintance, Creative Technology (CT), which addressed the LED-based demands of the evening.
The relationship between CT and Sensation on a global level has been established for some time, given that CT's Holland operation has looked after Sensation since its inception. This includes supplying Sensation world tours that travel everywhere from Japan, to Mexico, the US, and Europe. CT introduced Sensation to its Emirati counterpart two years ago, which has looked after the event ever since.
Pavic said: "CT is a very helpful company, very solid with great staff. Every time I work with them I come away very pleased. I even bought the first indoor LED screens from them back in the early days – the big boys that weighed a tonne!"
For Sensation, CT provided an F&P Diamond 20mm LED screen that was flown at upstage centre, running behind the DJ box and totalling just over 60 sq metres. The company also provided two flown side screens made up of Panasonic's new six mm creation, totalling 51 sq metres. This is a new product in the region, and CT has just taken a 300 sq metres inventory  from Panasonic.
Ed Jarman, CT's Senior Project Manager for the Middle East, said: "It is a wonderful looking screen, so far every job we have had it on, people have commented. The problem in the region is that you can buy a great looking cheap screen that shows itself up when moving content is introduced. The refresh rate on cheaper products isn't great, and you get staggering. The Panasonic is a mid-priced screen that is a great compromise."
CT also supplied a curved screen, again of the Panasonic six mm, that went round the front of the DJ booth, measuring 15 metres long by one metre high. This was all controlled by various fibre runs to FOH to the Catalyst media servers.
Jarman continued: "We also had robocams that were positioned in and around the DJ booth – three Panasonic AW-HE50SE cameras – that all ran to FOH where they were mixed by a Blackmagic Design ATEM 2 ME Production Studio 4K Live production switcher with the relevant monitoring. The live footage was mixed to the screens and overlayed with content provided by Sensation, operated by the touring Lighting Designer."
CT had three LED techs and a video engineer on site for the evening, though this number increased to around 15 during load-in and load-out.
"Although smaller acts have played at Meydan, they are usually end-on rather than side-on like Sensation," Jarman explained. "This meant an easy load-in for us because we could get the trucks to drop us right where we needed to be."
CT puts a great deal of pride in its status as a regional trailblazer when it comes to LED technology, and Jarman enthused that this contributes to the vitality and potential of this deceptively small industry.
He said: "This can be an incredibly competitive market, which is dominated by three established full-service players who have been here for about 20 Years. CT entered the market around 18 years ago and established a permanent base in 2007. We have historically been a video specialist and the majority of our clients see the value in this approach. In line with the strategy of our other offices worldwide, we are broadening our offering where appropriate, this is especially evident in the corporate events market where the single AV supplier approach is gaining traction."
ALL FOR ONE
Dutch company Pyrofoor de Amsterdam provided special effects and pyrotechnics for Sensation right from the first event 15 years ago, and the Dubai spectacular was no exception. The company partnered with UAE locals Flash Art to assist with the import, licenses and regulations required to shoot the pyro, as well as sending three crewmembers from the Netherlands to lend their expertise on site.
Pyrofoor's Roy van Meel commented: "Sensation was a finely-tuned show with exactly-timed moments and chosen products that combined well with the music, lights and acts themselves."
While Sensation's Dubai outing was something of a departure from the usual European and US indoor shows, van Meel maintained that this presented opportunities as well as challenges.
He said: "With indoor events you have always a maximum height of effects to worry about, but this becomes irrelevant once you remove the roof! Our more pressing concerns were regarding things like the weather conditions. Wind, for example, is a new challenge on a show like this, particularly with all the decorations and aerials close to where the pyro is being used."
Although the actual transport of the gear by sea was no problem, van Meel claimed that it would have been "almost impossible" to get it all into the country without the assistance Pyrofoor received.
He added: "Although we fulfil the role of supplier, we needed a local company to support us to make this show what it is – this was proven by the import issues we had. That said, we couldn't have done it without support from Next-FX in the US and a great local company like Flash Art."
It is this international level of cooperation that is essential for a production as enormous as Sensation to enjoy such success. The show has already become an indispensible part of Dubai's events season, and one that continues to astound no matter how high the bar is set.
Pavic concluded: "Sensation has built up such an image over the last 15 years that it is sometimes hard to surpass these high expectations. Every time you build something beautiful you have to strive for progress year after year. It's interesting to see how the show evolves alongside production techniques and technology. The team really have come up with something special – an end product that has solid values worldwide."
Photos: Jorn Baars / Sensation