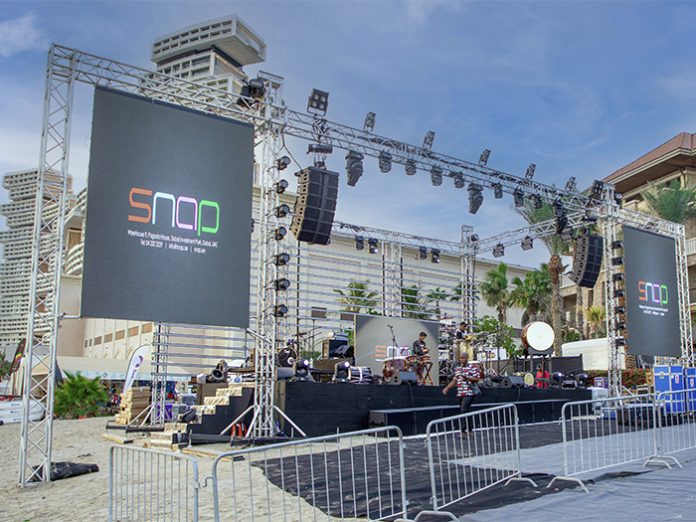 Snap, the multi-disciplined events service provider, was contracted to design and supply a technical and staging solution for Sofitel, The Palm Jumeirah's 2023 New Year's Eve Gala dinner event. The client's brief to Snap was to deliver an exciting stage package that catered to an audience of roughly 1500 guests on the venue's beachfront, which was approximately 150m long by 40m wide.
Snap's project team put together a comprehensive audio, video, lighting, and SFX package that not only looked after rider-specific requests but also offered a creative canvas for both the headline and supportive acts of the evening.
The event showcased Snap's gear, which included four Lighting consoles, multiple lighting fixtures, Shure Axient, audio consoles along with Absen screens to support their creative vision. Snap had been anticipating the delivery of a new L-Acoustics Kara II system, and this project was the perfect opportunity for them to utilize it on its arrival.
Snap achieved a crisp and powerful throw of 40m from the Kara II before turning to additional delay speakers positioned further down the beach. L-Acoustics coaxial X12 and X15 were also utilized as monitors for the acts while the whole system was supported by an L-Acoustics P1 audio processor. The setup requirements at the Sofitel made L-Acoustics a great system to meet the long-throw demands of the environment they were working with.
The client and guests were absolutely overwhelmed with the punchiness and clarity of the main stage PA system as well as the visual package that Snap designed and delivered.
Snap has invested in L-Acoustics, and their feedback has been exceptional. "We aim to make our events unforgettable and the outstanding audio quality from L-Acoustics helps us achieve that and more; we can be certain that our clients and guests will enjoy an unparalleled audio experience when we use this solution", Aaron Merchant, Project Manager at Snap.
The L-Acoustics in-depth training and certification program hosted by NMK Electronics, local distributors for L-Acoustics, at their experience centre in Dubai, UAE is a great initiative in giving the audio specialists a well-rounded knowledge of the L-Acoustics hardware and software capabilities. "NMK have been an amazing partner to Snap over the years with their continued support for all of their technical purchases. It's comforting to know that we always have their hands-on support locally", added Merchant.
Shure Axient Digital stands at the forefront of the live audio industry, setting the standard for excellence among audio professionals. The artists expressed their admiration for Shure, praising the microphones for its' ability to amplify their voices with stunning clarity and precision. The result was a dynamic and energetic performance that captivated the audience. The overwhelmingly positive feedback from all involved confirms the superiority of Shure Axient in delivering unparalleled sound quality and performance.