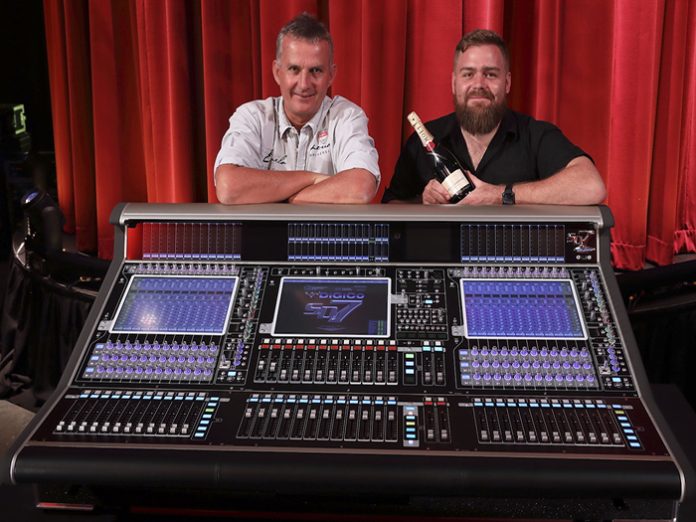 South Africa is now able to give international audio engineers what they desire, thanks to a landmark investment, which resulted in the region's very first very first DiGiCo SD7 console, supplied by DWR Distribution.
The investment, made by Kevin Glover, owner of Sound Stylists, will compliment Sound Stylists existing DiGiCo inventory, which remains the largest back catalouge in Africa. Glover also explained his plans to train fellow console users on his latest toy.
In 2006, Sound Stylists became the first company in South Africa to use DiGiCo consoles, with the purchase of a DiGiCo D5, subsequently adding the latest SD7 console to their stock.
Sound Stylists current inventory comprises a range of of DiGiCo consoles: 2x D5s, 2x SD8s, 1x SD10, and 2x S21s, including additional racks and accessories. "The South African market is maturing and is getting bigger. There were a number of International artists that we serviced with our SD10 last year however a number of them were looking for SD7s so essentially, we are answering that call. In addition to that we also needed the additional SD Racks and having the 32 bit input cards also increases the desirability."
Kyle Robson of DWR Distribution, added: "To meet requirements of international acts, the DiGiCo SD7 was previously hired in for a show, often from Dubai. The SD7 platform is eleven years old yet is still one of the most popular consoles on the market, the main contributing factor being the dual engines. It's like having two consoles in one, which offers redundancy that engineers like. They have the assurance that should one, for some reason, break down, the other will kick in giving peace of mind. Other benefits include having high channel counts, more faders, more screens and a bucket load of outputs."
Ian Staddon from DiGiCo commented: "I am delighted that Kevin and Sound Stylists has chosen to not only continue their investment in DiGiCo, but to go for our 'Flagship SD7'. I and many of my colleagues at DiGiCo have known Kevin and several of his team for a long time and it personally gives me great satisfaction to know that Sound Stylists appreciate DiGiCo, our products and what we stand for as a manufacturer. Our believes are mirrored by DWR and this sale is testament to that; a great team effort by all involved. Thanks to Kevin and DWR!"
Kevin concluded: "I'm an old dog and it's going to take time, but I'm excited. I want to stay current and I want to know what my team are talking about," he laughs. "One thing I will say, and this is a sentiment from my team, when they have a choice of desk to run a show, they always choose DiGiCo."