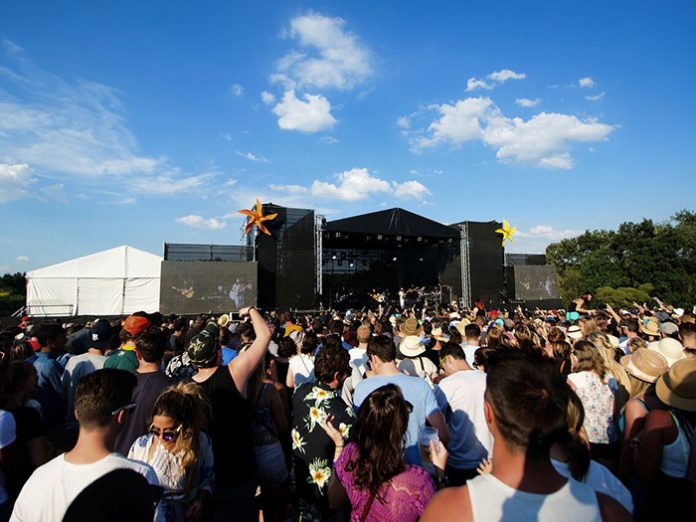 Sowing the Seeds 2016, a music and lifestyle festival in Johannesburg, South Africa relied on Blackmagic Design's ATEM 1 M/E Production Studio 4K and Micro Studio Camera 4K to produce the live to screen visuals for festival performers, including headline acts Of Monsters and Men (OMAM) and Jungle.
The portable production unit (PPU), crew and IMAG projection used during the festival were supplied by rental and staging specialist Militia Broadcast. The fully customisable PPU is built around optical fiber and also features Blackmagic Design's range of studio cameras, ATEM Talkback Converter 4K and HyperDeck Studio Pro.
Six cameras were used to cover all of the live performances during Sowing the Seeds 2016. Acquisition consisted of two cameras front of house and two more dolly mounted cameras in the pits. With another Blackmagic Studio Camera 4K on stage, the production crew also employed Blackmagic's Micro Studio Camera 4K to help capture detail shots.
Live directors such as Sarah Chu, who was responsible for OMAM's live to screen, were able to capture little details including close ups of a drum kit and snares, or hands shots to add another dimension to the live program mix they produced. Each camera channel is sent back through two ATEM Talkback Converter 4K to an ATEM 1M/E Production Studio 4K switcher where Chu cut the live program and fed that back out to two 5x4m LED panels at either side of the stage.
Founder Eban Oliver explains that the bright sun of an African winter during an all day live event provided his crew with a challenge or two. "There was a lot of direct sun to the front of the stage, particularly at midday," he recalled. "And by the time the festival had wrapped up, the stage was in total darkness."
That wasn't to be a problem for Militia Broadcast, or the live directors producing the live to screen content. "We've built up a whole library of look up tables (LUTS) that allow us to quickly compensate for lighting changes," revealed Oliver. "We use DaVinci Resolve to create them and then our shader is able to upload a LUT based on the time of day and conditions from a central position. That meant the operators were able to stay focused on the shot."
"You only ever get one chance at recording this kind of event and so it has to be good. You cannot afford for anything, technical or otherwise, to go wrong. That's why we absolutely rely on Blackmagic kit. It's never let us down," concluded Oliver. "Thanks to the modular design of Blackmagic's products we can now transport everything that's required for any multi camera production to a site, drop down a single piece of fiber per camera and you're wired for action."