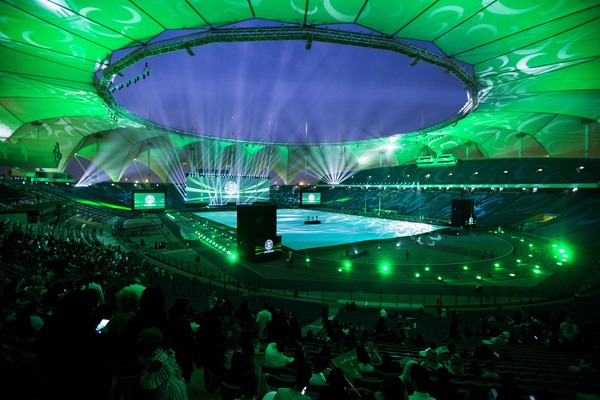 Dubai's Spectrum Entertainment Services has joined the Adamson Network with the purchase of a substantial E-Series system, with the new package featuring at the 2017 Saudi National Day celebrations at King Fahd International Stadium in Riyadh.
"We're seeing the demand for high-performance audio systems continue to grow and invested in Adamson's E-Series due to its high-fidelity sound, phase coherence, even coverage, and clarity," explained Julien Beyrouthy, General Manager of Spectrum Entertainment Services.
"We're following our longtime clients to bigger venues while also supporting larger festivals and major international tours. Adamson's rider acceptance has grown significantly and promoters in our market have made it clear they're looking for seasoned companies offering Adamson systems."
Spectrum Entertainment Services is one of the leading providers of production technologies in the Middle East and North African region, providing turnkey audiovisual packages including audio, video, lighting, staging, and rigging services with experienced and professional operators for applications of all sizes.
Spectrum's new Adamson system is comprised of 24 E15 and 12 E12 3-way, true line source array cabinets, 12 E219 subwoofers, and 24 compact E119 subwoofers, and they've wasted no time putting it to work.
The company recently supplied Saudi Arabia's King Fahd International Stadium in Riyadh with an expansive sound system for its Saudi National Day celebrations. The event, held Sept. 23rd, 2017, featured a performance of the operetta The National Epic for a crowd of approximately 50,000.
Spectrum Entertainment Service's entire E-Series inventory were deployed with the main stage arrays comprised of 12 E15s and 6 E12s per side. For low-end reproduction, the company relied on 12 E119 and 6 E219s per side. Additionally, 32 Adamson Y10s were used as delays to ensure even coverage throughout the stadium. The entire system was driven by E-Racks featuring 22 Lab.gruppen PLM+ 20K44 amplifiers with Lake processing.
"We were thrilled to use the new Adamson E-Series arrays for Saudi National Day," commented Theodoros Gkiantsis, the FOH engineer who mixed the operetta. "The E-Series is extremely linear and it takes very little work to get the system sounding great. We received rave reviews about the quality of the sound across the board."