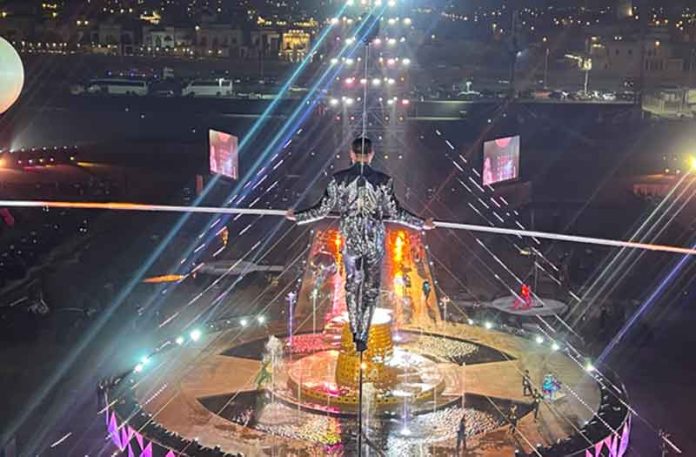 TECS Event Services has invested in a variety of automation technology and increased its stock of truss.
The rigging and automation specialist has taken delivery of a Movecat I-MOTION-SYSTEM EXPERT-T III console, an I-MOTION-SYSTEM NMB-14 network master distribution box, two Alfa System SKY-1 winches, as well as 20 Movecat ECOlite 320-4 DC chain hoists.
"The automation and performer flying winch purchases increase our inventory and capacity to facilitate the ever-growing needs and technical aspects of events regionally," commented Shane Manning, Managing Director at TECS. "Many events are now wanting that proverbial third dimension, which quite often requires automation."
Manning sees the investment as perfect to service the increasing demand for variable speed hoists and trolleys, as well as automated LED walls, integrated product reveals, and performers tracking up and down or on and off stage. "We have also been in talks with some aerialist performers and we're working collectively to help give them safe and affordable solutions outside of the few venues that have winch systems installed," he added.
Expanding on the reasons for purchasing the smaller hoists, Manning noted the very light weight – "a hoist with 18m of chain is only 20kg, so for venues that have a low rigging point capacity, this is ideal," he said. "Secondly, the motor body is small, so in venues where large quantities of space and point loads aren't available, this motor is an amazing solution," he furthered, pointing to scenic decor installs in the likes of Mall of The Emirates, Dubai Mall, and Galleria Mall as perfect examples of the hoists' potential use.
The company also added two full 40ft containers of Interal P50 and S31 truss, plus an 8m circle (40 box) – all powder coated black. "These are needed on most projects, and as we continue to grow and push into Saudi Arabia, we must ensure we're not running short across multiple projects running concurrently," Manning explained. "In the constant battle to help ensure projects don't become cost prohibitive to the client, with all the logistics and border fee charges, we will also be holding stock in KSA," he revealed, adding that there was also the possibility of dry-hiring the new stock to other companies.
The investments come at a time of continued growth and development for TECS and, while Manning is undoubtedly pleased with the company's new stock, he is under no illusions as to what his key asset is: the staff. "We have been investing in them, too," he noted. "We've taken on more riggers, more crew and some L3 IRATA rope access specialists. Some members of the team have been working on getting their driving licence, and all of our team (even the warehouse crew) are IPAF trained and certified. All the crew are minimum L1 IRATA trained and certified."
The Managing Director concluded by stressing the importance of safety. "As we were one of the first in the region to purchase, implement and integrate Broadweigh load cells into our inventory and projects, Broadweigh has now made us the regional distributor for its products," he shared. "Having load cells being used across the board within our industry is amazing. If we can be part of helping make any event even 1% safer, then this is a good thing."