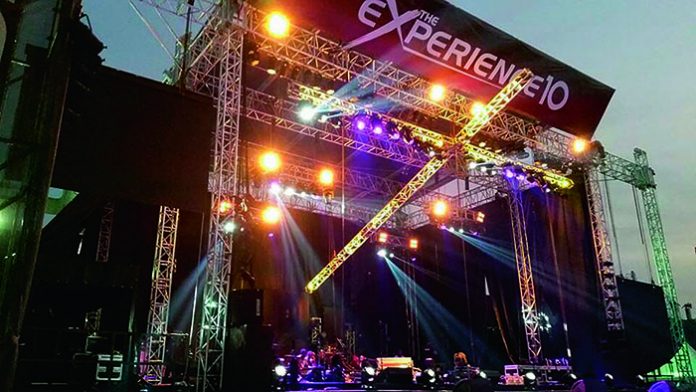 OVER 500,000 PEOPLE ATTENDED THE EXPERIENCE – A MEGA CONCERT AT THE TAFAWA BALEWA SQUARE IN LAGOS, NIGERIA. THE SHOW IS AN INTERDENOMINATIONAL GOSPEL CONCERT ORGANISED IN NIGERIA BY THE HOUSE ON THE ROCK, A VIBRANT, MULTI-ETHNIC CHURCH.
Organisers chose an Outline audio system, Yamaha for control and an upgraded lighting rider that included Clay Paky and Avolites to ensure that the spoken word and music performances by artists such as Don Moen, Donnie McClurkin, Fred Hammond, Micah Stampley, Kim Burrell, Hezekiah Walker, Jessica Reedy and Sonnie Badu were all heard and seen by the huge crowd who enjoyed 11 hours of non-stop prayer and live music.
Steve Davies, Production Manager and FOH Sound Engineer of UK-based production company Subfrantic, shared the success of the 10th event with TPMEA: "We've been working extensively in the gospel market in the UK since 1999, and have had a relationship with the London branch of House on the Rock [the church that puts this event on] for over 15 years. Through time, our reputation for how we work and the strength of our results made its way back to the main body of the church in Lagos, who eventually asked us to come over and install the desks and audio network for their new 7,000 capacity cathedral in 2013.
"I went out to Lagos for the inauguration of the building and also visited a few times that year for special events, to service and update the desks, and to train the in house engineers. Shortly afterwards, we were asked to get involved with The Experience 8 in 2013, for which we did FOH and monitor sound. The Experience 9 in 2014 saw us add lighting design and operation to our responsibilities, and for The Experience 10 in December 2015 we were also asked to undertake the video content for the stage, the broadcast mix, the multitrack recording, stage management, and production management, all while working very closely with the client and their local suppliers, who provided most of the technical equipment."
AUDIO
For The Experience 10, there were 16 channels of Shure UHF-R radio microphones, supplied by the cathedral. Continued Davies: "We created a network for the microphones and ran it on Wireless Workbench, which of course meant updating all of the firmware first. Sound Network in London very kindly leant us two DPA D:Facto II heads that we put on the two main vocal microphones, which were outstanding as always. Cabled microphones came from a mix of the church's equipment, stock from Cytech, the local audio supplier, and our hire stock, which we brought over from London. This included a full set of DPA D:Vote 4099's for the drumkit and eight-way Radial DI boxes for Avid ProTools and other playback gear."
The desks were all Yamaha CL series of consoles, with a CL5 at FOH and two CL3's handling monitors and broadcast duties. These ran on the same network with two Rio 3224 stage boxes. "We also brought a Rio 1608 from our hire stock in London which we used to run in the audience response mics for recording, broadcast, and multitrack. The multitrack was then taken from that Dante network in three places to ensure we had redundancy on our redundancy, using different software to track in each location."
Subfrantic brought over one km of cable on British Airways, which Davies joked, made some "stunning excess baggage charges!" He continued: "Mixing gospel music can be incredibly difficult at times as there's a lot going on in terms of the size and makeup of the bands and choirs involved, and, of course, you usually don't have any of this information in a reliable form until the eleventh hour. But there are upsides too; most notably the quality of musicianship, which at these events is always outstanding.
"For this gig we ran a festival patch that had to take account of anything from a 200-strong choir through to spoken word pieces and acoustic drums to Pro Tools, multiple keyboard lines and a respectable radio mic count, so we were constantly fighting to keep it all within 64 channels, especially as the change overs between bands were around five minutes!"
  Although the sheer size of the gig makes it impressive, it's not just the size of the site or the audience that presents the biggest challenges, these often come from unexpected places, as Davies explained: "In UK we have conventional views on the decibel level you would expect to use to cover a certain area at an event like this because we expect a certain number of people to be there, so when you look at the predictions and see a smooth 105dB you might think you're safe. When you walk around the day before the event and are metering the delays at 110dB at the back of the main arena you may think you've got yourself a little headroom. But when you realise that there are over twice as many people in that area as you expected, all of who sing, most of who bring whistles or vuvuzelas, you quickly realise that you could have a problem! This means that you have to interpret software predictions very differently as what would otherwise be sufficient is all of a sudden far from it, and when you're on site it's even more important to use your ears to get the system how you want it than it is to use prediction software or analysers."
SOUND SYSTEM
The PA system was supplied by local firm Cytech World Communication. The company was called in for the third consecutive year to handle sound production for the huge event. Cytech invested heavily in an Outline C12 rig for its first involvement with the event in 2013. In 2014 it invested in further boxes that were added to the design for 2014 and 2015.
The main FOH Outline audio system was comprised of 30 GTO C-12 line arrays, two GTO-DF down-fills, 16 DBS 18-2 subwoofers and four LAB 21 HS infra-low subwoofers. Coverage for the audience near the sides of the stage used 20 Butterfly line array. Six Outline 2-way DVS 12 point source cabinets provided front-fill facilities, 24 Butterfly and eight 218 Subs were deployed as delay units. Outline T-Series amplifiers powered the entire sound system. With a limited time frame the audio team used Outline's Openarray-3D acoustical prediction software to guide the installation of the sound system, which had the task of covering all of Tafawa-Balewa Square, 280 metres by 200 metres, bounded by tiered seating 20 metres high and 30 metres deep.
The Experience 10's System Engineer was Italian live audio veteran Carlo Gennaro, who explained: "Due to the vast area and the size of the crowd, achieving the best possible results in terms of coverage was fundamental to ensure everyone enjoyed and participated in the show, no matter where they watched it from – even for those in the bleachers. The Outline rig with its impressive long throw, precise coverage and overall clarity overcame this challenge with ease and precision and the result was really gratifying. At FOH, forty metres from the main system, we had of 110dB of undistorted SPL. We couldn't have asked for more!"
Behind the main arena there is an overflow area, which fills is an entire cricket pitch. Lagos rental firm PF Syztems handled this area with an Electro-Voice X Series PA system.
LIGHTING AND VIDEO
The lighting expanded enormously this year with a rig including 57 Clay Paky Sharpys, 24 Sharpy Washes, six Clay Paky Alpha Profile 700's, and generic fixtures supplied by local company 001. Said Davies: "Last year we brought an Avolites Tiger Touch console with us which handled our requirements dutifully, but this year we added further production values with a 3.9mm video wall which was placed at the rear of the stage. This year we air freighted our new Avolites Sapphire Touch to handle the bigger job. This was then networked with the Avolites Tiger Touch and a brand new Green Hippo Hippotizer Karst Media Server to manage content. This meant that again we could do a vast majority of the pre-production in the UK before we left, but Owen Evenas, our Green Hippo Tech and Graham Roberts, our LD still had a few late nights creating custom content for certain parts of the show."
Nigeria's gospel community were once again able to revel in the magnitude of hard work and production elements delivered to The Experience, only this time, it was better than ever. In conclusion, Davies told TPMEA: "The gig is breath-taking. The team I take out are seasoned professionals but we all see it as something special and we're all very proud to be a part of it. The quality of the artists that perform whilst being surrounded by such an enormous and positive audience creates a truly unique experience.
"There's talk that The Experience 10 was always going to be the last one, but if there's an 11 then we'd be out there to keep on building on the good work that us and the Nigerian teams and suppliers have put in over the last decade."